Mind Mapping Software Review
Objectives of this Mind Mapping Review
---
In this mind mapping review, we evaluated professional desktop applications that tend to be more productive because of their MS Office integration and Project Management features. We selected MindManager 16 (formerly MindJet), MindView 6, and MindGenius 6 to review, as they seem to stand out, but users may also consider iMindMap and MindMapper.
With all of these applications, the process of creating mind maps is far simpler than drawing mind maps on paper and all of these mind mapping software tools allow users to create mind maps easily. Professional mind mapping software is often used for project management, knowledge management, running meetings more effectively, and enhancing team collaboration. Therefore, this review is focused on features important to these areas.
Both MindManager and MindView are available for the PC and as a limited Mac version. MindGenius is only available as a PC version. MindManager includes a light iPad version, whereas MindGenius and MindView work on the iPad through the integration with iThoughts. MindManager and MindView are also available as a web-based solution, though both are limited compared to their respective desktop application versions.
Professional Mind Mapping Software Review
---
A review conducted by Andrew Makar of TacticalProjectManagement.com
Category Ratings
| | | | | | |
| --- | --- | --- | --- | --- | --- |
| Not Available: 0 | Worst in Class: 1 | Below Average: 2 | Average: 3 | Above Average: 4 | Best in Class: 5 |
Score: 201
Score: 162
Score: 106
Platform
PC
Yes
Yes
Yes
Mac
Yes
Yes
No
iPad
No
Yes
Yes
Web
Yes
Yes
No
Map Formats
Left/Right
4
4
3
Right/Left
4
3
3
Top Down (WBS)
5
5
3
Organizational Chart
4
5
3
Outline
5
3
0
Gantt
5
3
4
Timeline
5
0
0
Microsoft Integration
MS Word
Export
5
3
2
Import
4
4
1
MS PowerPoint
Export
4
2
3
Import
4
0
0
MS Excel
Export
5
3
4
Import
3
0
0
MS Outlook
Export
4
5
4
Import
4
4
2
MS Project
Export
5
2
3
Import
5
2
3
Additional Exports
PDF
3
5
3
HTML
5
1
4
Mind Map Features
Attach Notes
5
5
3
Attachments/Hyperlinks
5
3
4
Visual Customization
4
5
3
Multi-Mapping
3
5
3
Relationship Lines
4
4
4
Filter
5
5
4
Presentation Mode
3
4
2
Focus View / Branch Focus
5
5
3
Legend
5
2
0
Project Management Features
Allocate Task Information In Map Views
4
5
4
Gantt Chart Functionality
5
2
3
Allocate Resources
4
3
4
Effort Driven Tasks
4
3
0
Set Milestones
5
5
5
Set Constraint Types
5
2
5
Set Dependency Types
5
4
5
Priority Levels
4
3
4
Project Calendars
4
2
0
Resource Calendars
4
0
0
Task Modes
4
2
0
Project Reports
5
3
0
Indicators
2
3
0
Collaboration
Online Environment / Workspace
3
5
0
Online Task Management
4
4
0
Free Viewer
1
5
2
SharePoint Integration
2
5
0
Multi-User Editing
4
4
0
Branch Locking
3
0
0
Task Distribution
3
5
3
Other Features
Branch Calculation
4
5
0
Score: 201
Score: 162
Score: 106
---
Mind mapping is a non-linear way of brainstorming. The mind mapping software programs reviewed all allow for the created mind maps to be changed into different views such as top-down or left-right. It is often beneficial to review the information captured in various views, depending on the audience and purpose. All three mind mapping software tools allow you to view the ideas in different directions such as right, left or as an organizational chart. MindView 6 contains several interchangeable views including the comprehensive Gantt chart, outline, and timeline views.
The timeline view in MindView 6 stands out as an extremely beneficial view, as it transfers the organic structure of a mind map into a linear view for the timeline. MindManager introduced a new Flow Chart view in version 16 which seemed promising at first, however it is separate from the Mind Mapping views and did not allow for a transition from one to the other. Though useful, it was outside of the scope of this mind mapping software review and therefore was not reviewed in detail.
MindManager 16 also has a new Concept Map view, but this functioned very similarly to the Flow Chart view and we could not determine an accurate difference and benefit during this review. MindGenius had several views not included in the other programs, however after careful review, these were just different rotations of the core views and different line shapes.
MindManager 16 Views
MindView 6 Views
MindGenius 6 Views
Building and Formatting the Mind Map
---
There is no doubt that the most important feature in a mind mapping software tool is that it must be intuitive and easy to build a mind map. In mind mapping, most programs are a Coke vs. Pepsi type scenario, however when it comes to productivity, there are a few things to point out in each program.
MindManager 16 has the most flexible branch positioning when building the mind map. This allows users to act with more creative freedom, and drag/place main branches where they desire. There are also small + signs on the 4 main areas of the branch that allow for quick branch creation. After a few tries, this became very intuitive.
MindManager 16's Insert Branch Mode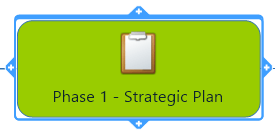 One of our main complaints with the flexibility of branch placement is that the map can become "unbalanced" or heavy to one side making it difficult to follow the branch hierarchy. MindManager 16 has a feature called "Balance Map" but once you hit this, all of your custom placement is lost.
MindManager 16's Unbalanced Mind Map View
Unfortunately when it came to adding colors and images to the map, MindManager 16 was not at the level of MindView 6. Small things like placing the branch image outside of the branch are not supported, and intelligent features like the font automatically changing color if the branch fill color that was applied is darker than the text, were not supported. This caused extra work to change the color of branches.
MindManager 16's Branch Text Color Mind Map View

MindGenius 6 was a little tricky to get started, because we could not locate the branch and sub branch icons in the ribbon. The keyboard shortcuts were similar in all 3 programs, and the right-click menu displayed the options to add branches, but why not in the ribbon? We found the multi-media catalog a bit awkward to navigate, there was only a small amount of space and we had to keep resetting the catalog to get back to the main folder level. Lastly, just like in MindManager, when you change the branch color to a dark color, the font was difficult to read, and you had to manually change the font color.
MindGenius 6's Branch Text Color Mind Map View

Out of the 3 mind mapping software programs reviewed, MindView 6 was the fastest and most intuitive. With rapid fire brainstorming, MindView 6 continued to place branches in specific designated locations, and balanced the map throughout our brainstorming session. This made the process of creating the frame of the mind map fast, easy and enjoyable.
When formatting things like branch colors, we were pleased to see that MindView 6 was intelligent in that it automatically updated the font color if the branch fill color was darker than the text. In our opinion, it is the little things that make all the difference. There were also a few different options for branch picture placement which made the map easier to follow so that the branch picture is an attention grabber but does not clutter the review of the branch names.
MindView 6's Mind Map View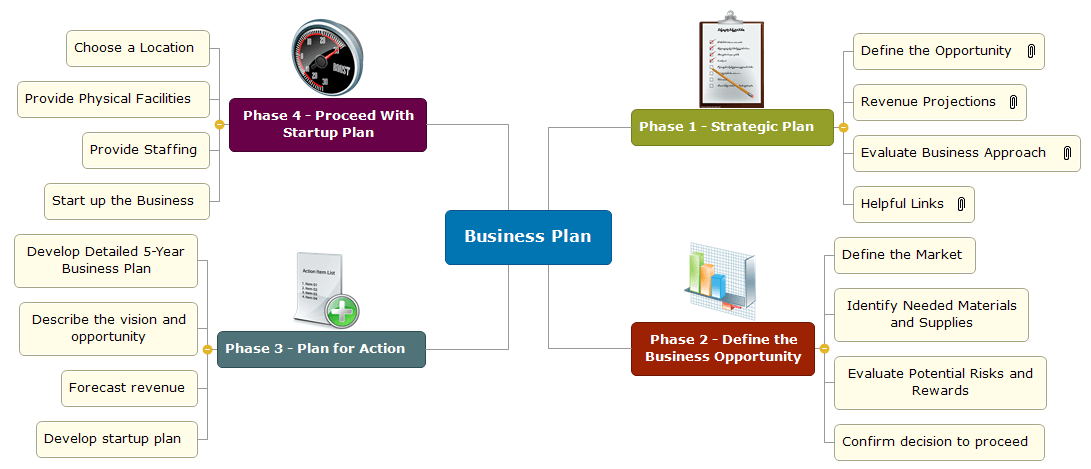 Adding Branch Attachments
---
All 3 mind mapping software programs we reviewed allowed you to add branch details via a Text Note, File Attachment, Hyperlink, etc.
Adding Text Notes
MindManager 16, MindView 6 and MindGenius 6 all contained text editors used for adding branch descriptions to be accessed at a later time from the branch. MindView and MindManager had more options, whereas MindGenius used plain text and a very small workspace for entering it. You could format the text in MindGenius 6, but you had to know to go to the Format Ribbon, select the text in the Text Editor and apply the changes. We found that to be a little cumbersome to work with.
Attaching Files
When it came to attaching files, it was not the feature itself that we found interesting, as that was standard in all 3 programs. It was the ease in which the attachments were made that we focused on.
MindManager 16 had a confusing dialogue that took a few tries to figure out, whereas MindView 6 and MindGenius 6 had a simple browse dialogue that popped up your file browser and you picked your file. In this example, we attached an Excel file.
MindManager 16's Attachment Dialogue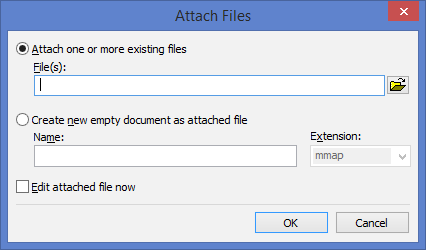 MindView 6's Attachment Dialogue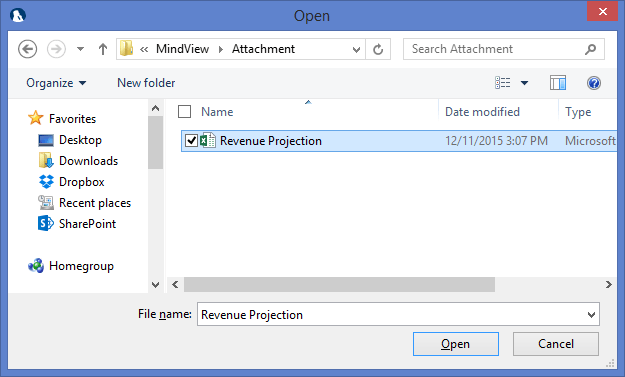 MindGenius 6's Attachment Dialogue

In MindManager, we also found it difficult to overview the file attachment once it was launched. MindManager opens the file attachment in the Browser panel, which is limited in size so you have to scroll to review the document. It is also read only. If changes are made to the external file, you need to hit Refresh to get this read only version updated, however this did not work for us. We had to remove and re-attach the updated Excel file for it to preview the new info. You can launch it to open outside of MindManager but that is just 1 extra step to get to where you need to be.
MindView 6 and MindGenius 6 both launched the file attachment in its native program where we could review and use all of the relevant features of that program.
MindManager 16's File Attachment Browser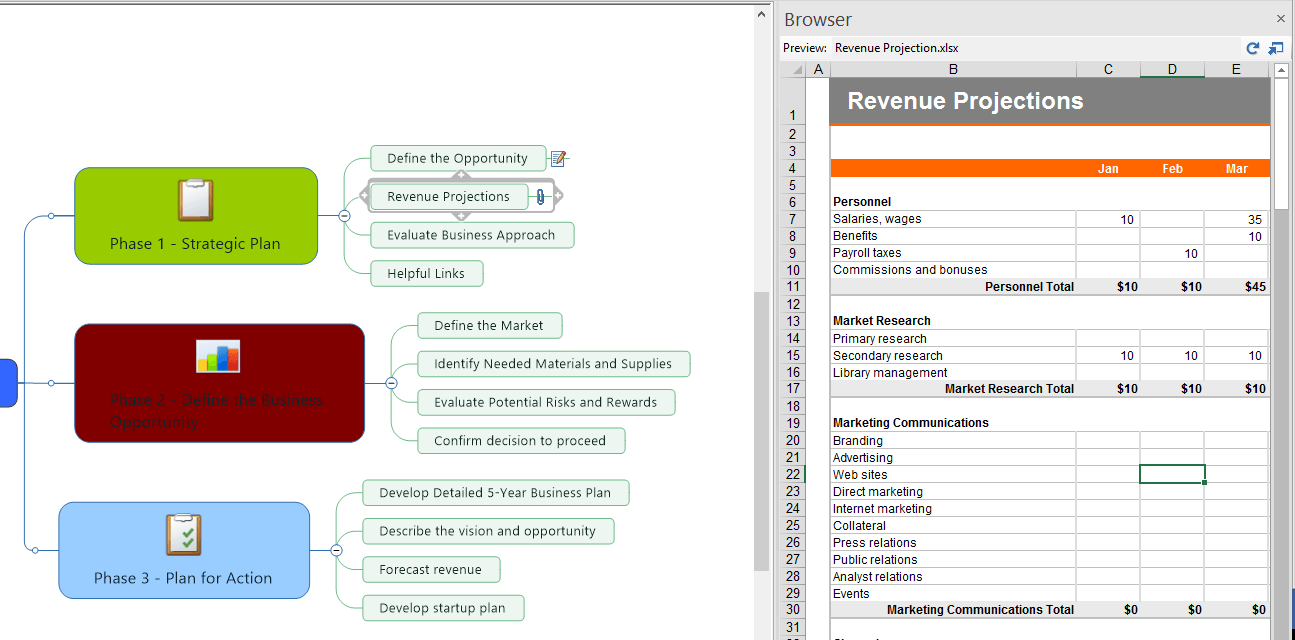 MindView 6's File Attachment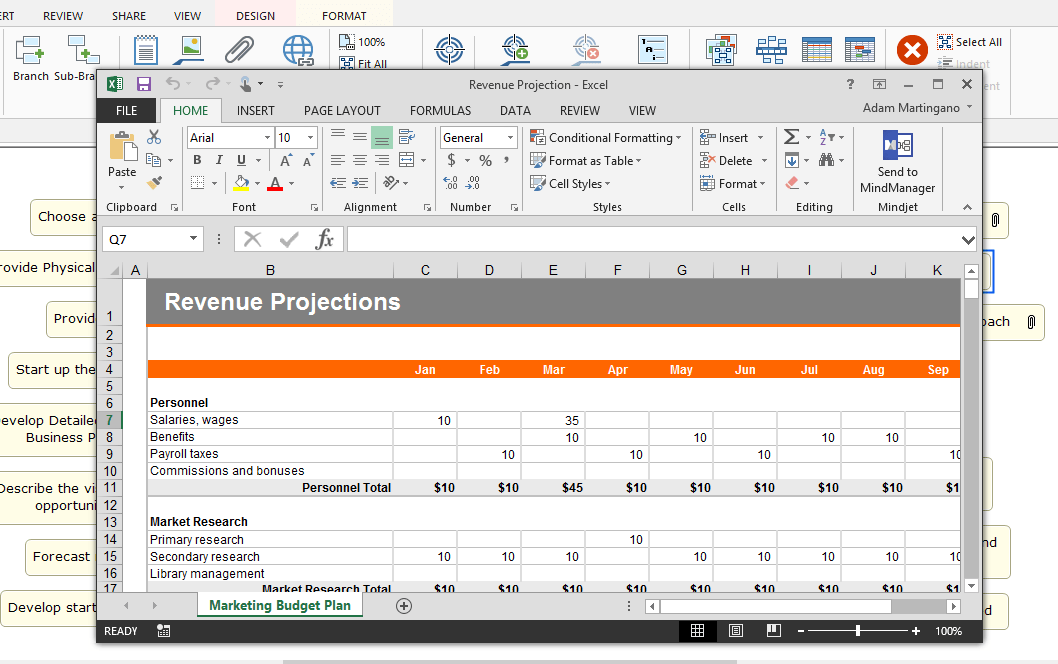 MindGenius 6's File Attachment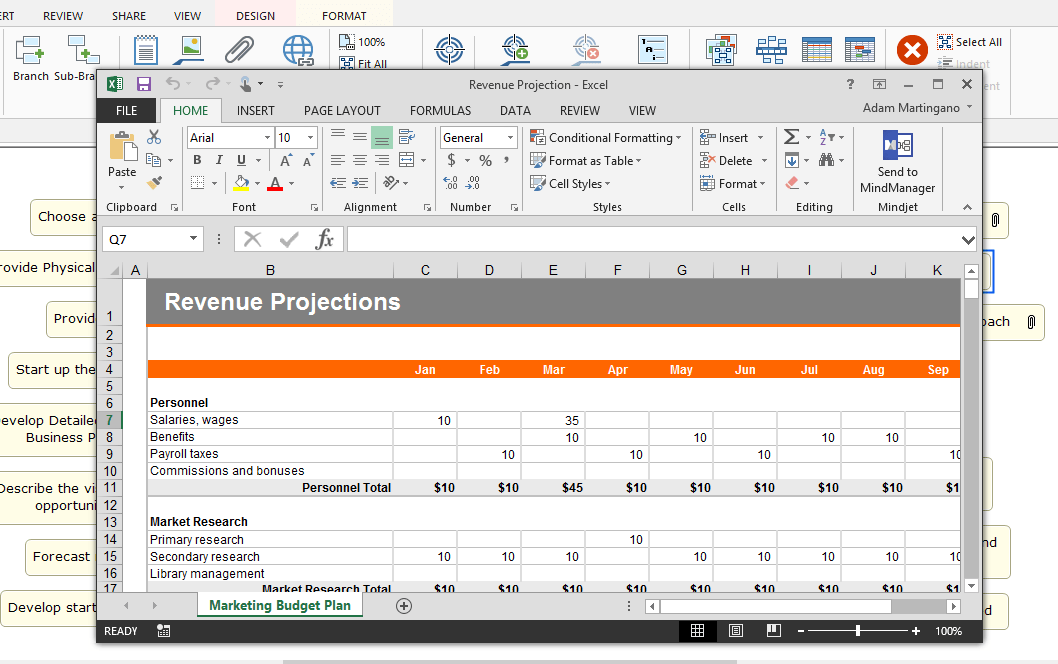 The issue that we had with MindGenius, is that the more attachments and branch information you had, the more cluttered the branch became. Here is a screenshot of a branch with multiple attachments, task info and a text note.
MindGenius 6's Multiple File Attachments, Text Note and Task info

Here is a similar branch in MindView, which is displayed in a cleaner manner.
MindView 6's Multiple File Attachments, Text Note and Task info

Adding Hyperlinks
Hyperlinks are a very valuable addition to your mind map. For those that are using Mind Mapping Software for research, it is an essential feature.
MindView 6 and MindGenius 6 had a standard dialogue for adding a hyperlink, however we were once again faced with a confusing dialogue from MindManager 16.
MindManager 16's Hyperlink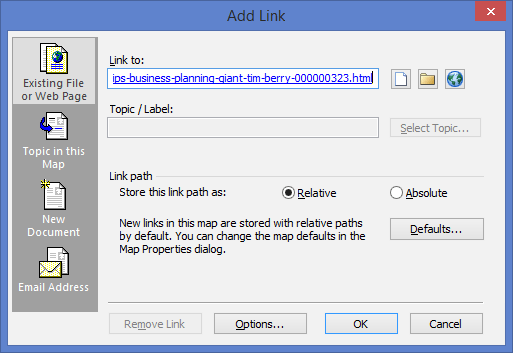 MindView 6's Hyperlink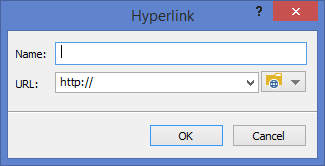 MindGenius 6's Hyperlink
With MindManager, we had the same concerns with the web page opening in the Browser panel. There is only so much space on a computer monitor, and valuable real-estate is being utilized for a small window to review a lot of content.
MindManager 16's Hyperlink Browser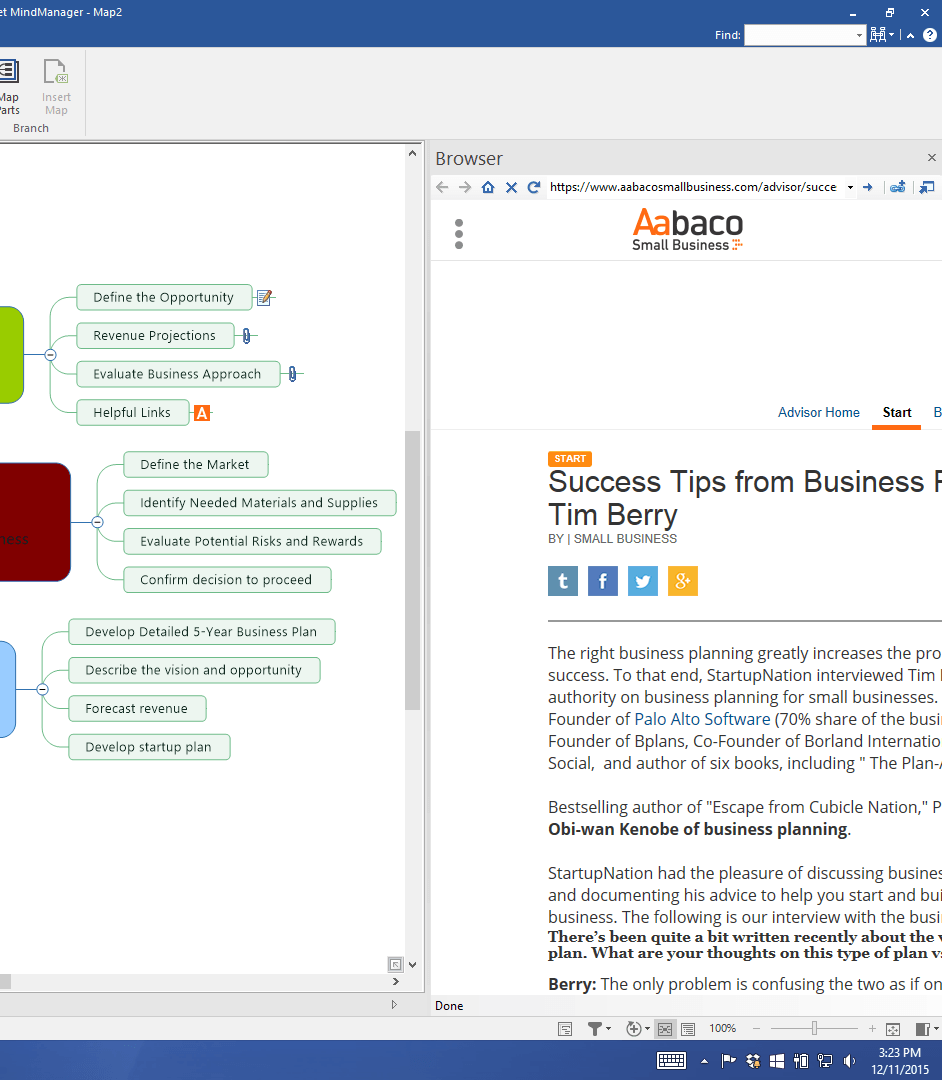 MindView 6's Hyperlink Browser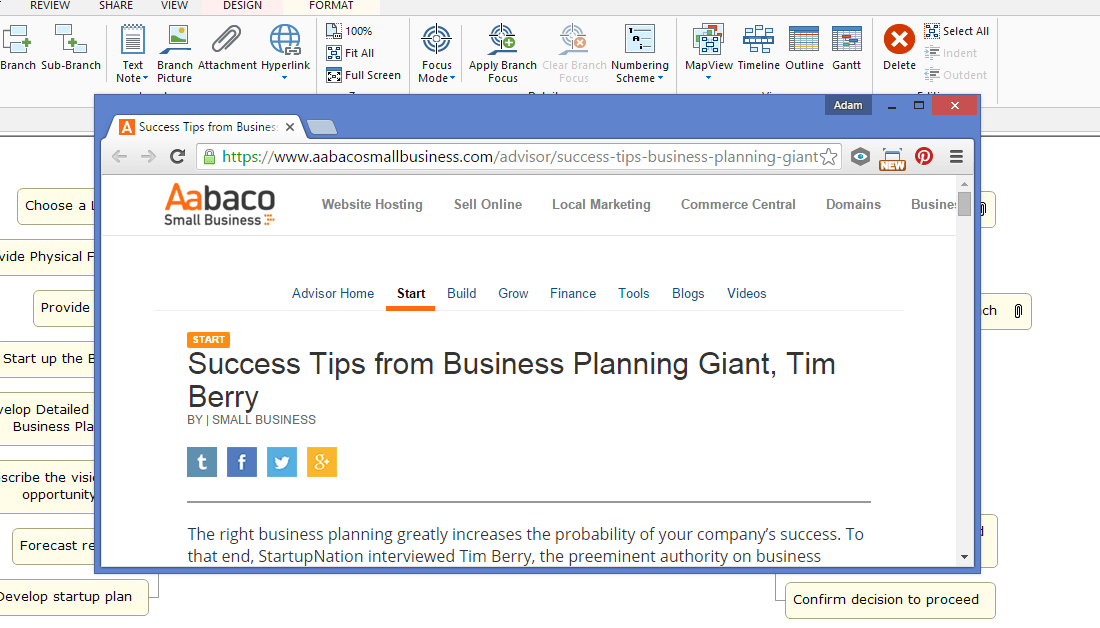 MindGenius 6's Hyperlink Browser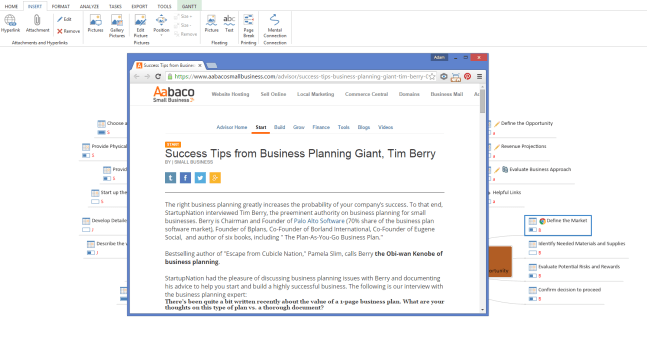 Mind Mapping and MS Office Integration
---
A very important factor in mind mapping software is what you can do with your mind map once it is complete. For instance, the ability to turn your mind map into an outline in Word or to export it to PowerPoint is a tremendous advantage. This allows you to save time, gain productivity, and most importantly, obtain ROI on your mind mapping software.
---
When compared to the others, MindView had a more professional Word document export utilizing a polished, template driven Word integration. It was also the simplicity in choosing your options for your export where MindView was the most intuitive.
MindManager 16's Word Export Tab 1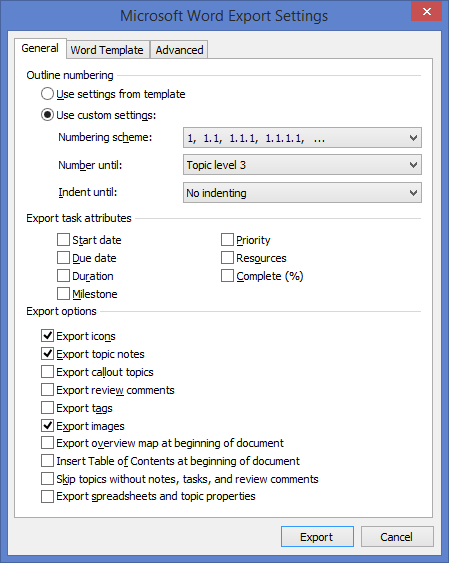 MindManager 16's Word Export Tab 2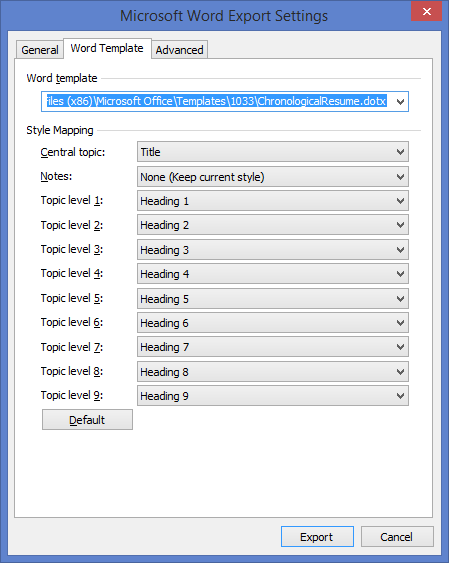 MindManager 16's Word Export Tab 3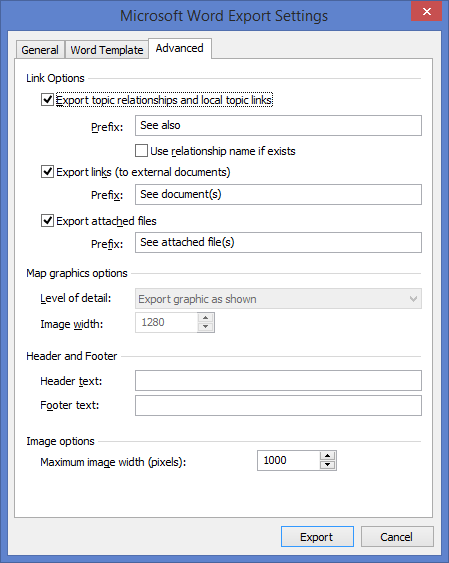 MindView 6's Word Export Tab 1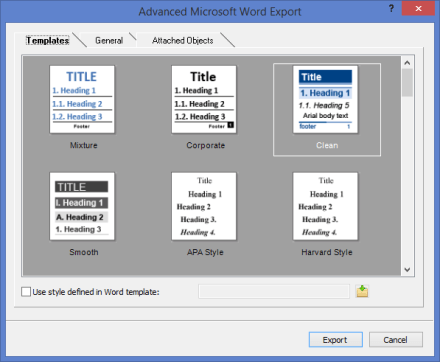 MindView 6's Word Export Tab 2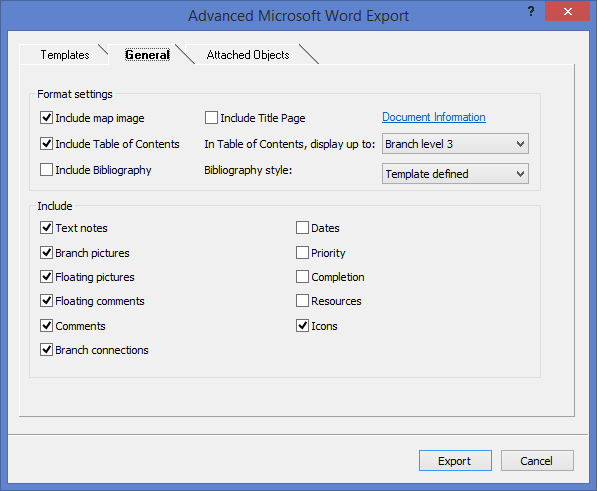 MindView 6's Word Export Tab 3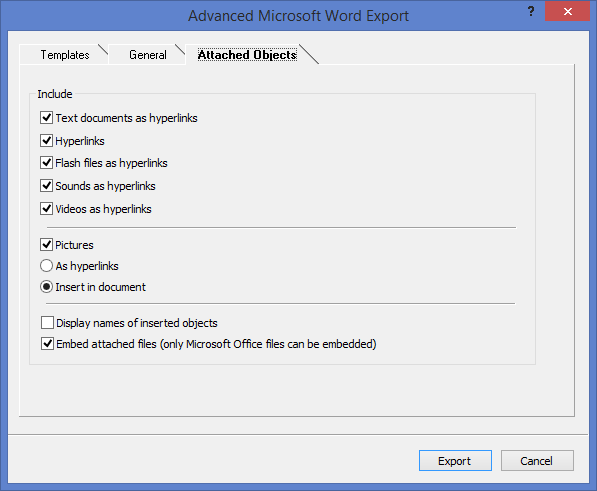 MindGenius 6's Word Export Tab 1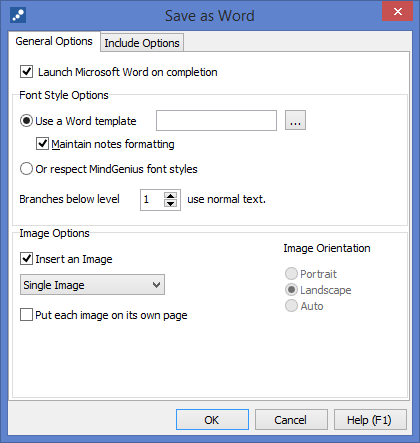 MindGenius 6's Word Export Tab 2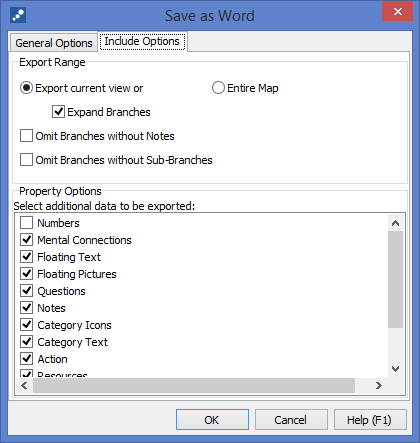 Here are a few screen shots on the final product when exporting to Microsoft Word.
MindManager 16's Word Export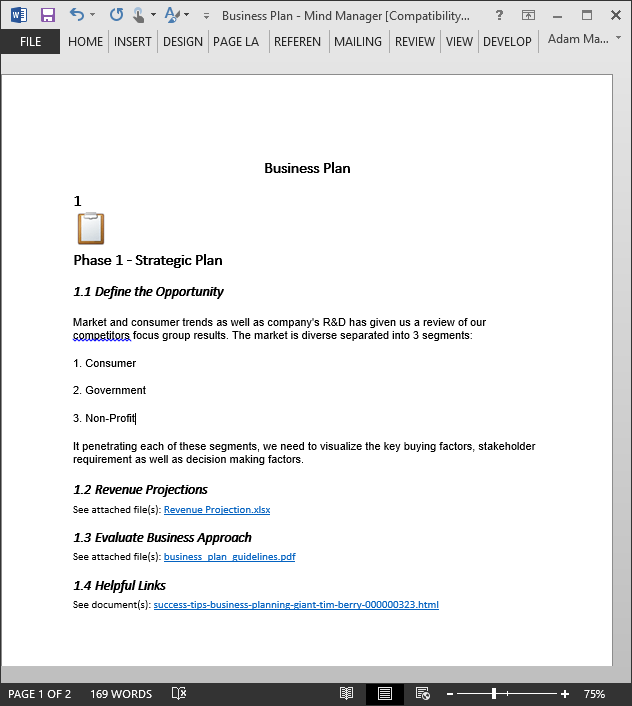 MindView 6's Word Export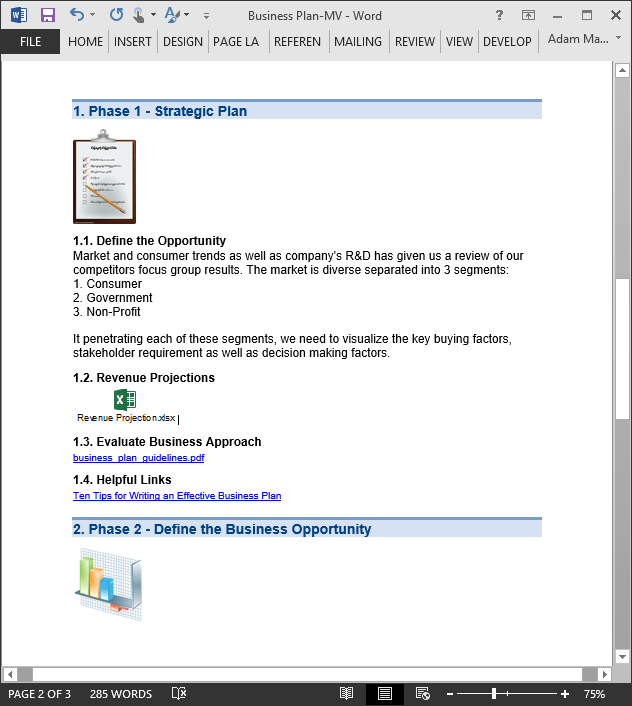 MindGenius 6's Word Export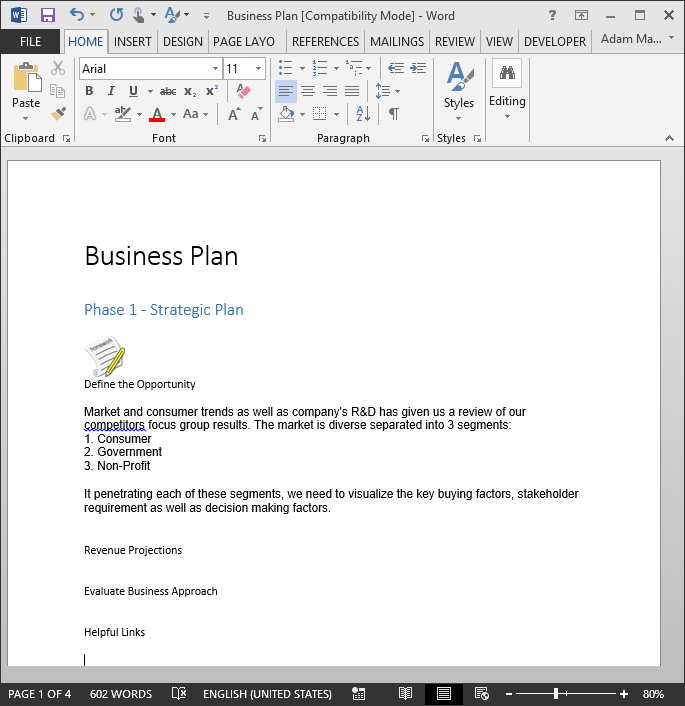 When importing from Word, both MindView and MindManager did well when importing Word documents as mind maps. As for MindGenius, the import into Word did not retain a clean style like the other 2 programs.
---
When it came to exporting a mind map to PowerPoint, MindView and MindGenius exported the branch structure to PowerPoint automatically, whereas MindManager either allowed you to select which slides you wanted to create (branch groups) or to let the program will automatically dissect the branch groups as individual slides.
MindView specifically had a very intuitive export wizard, much like their Word export which allows you to choose between several professional PowerPoint templates that you can't find in any other program, or use a custom template of your choice.
MindManager 16's PowerPoint Export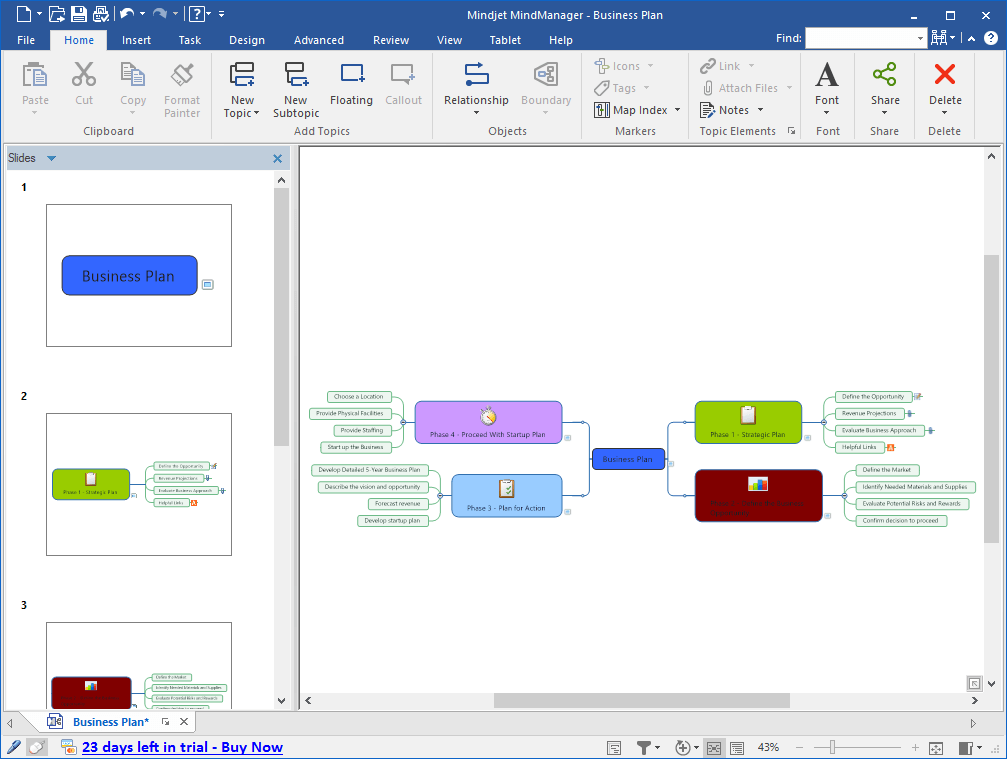 MindManager 16's PowerPoint Export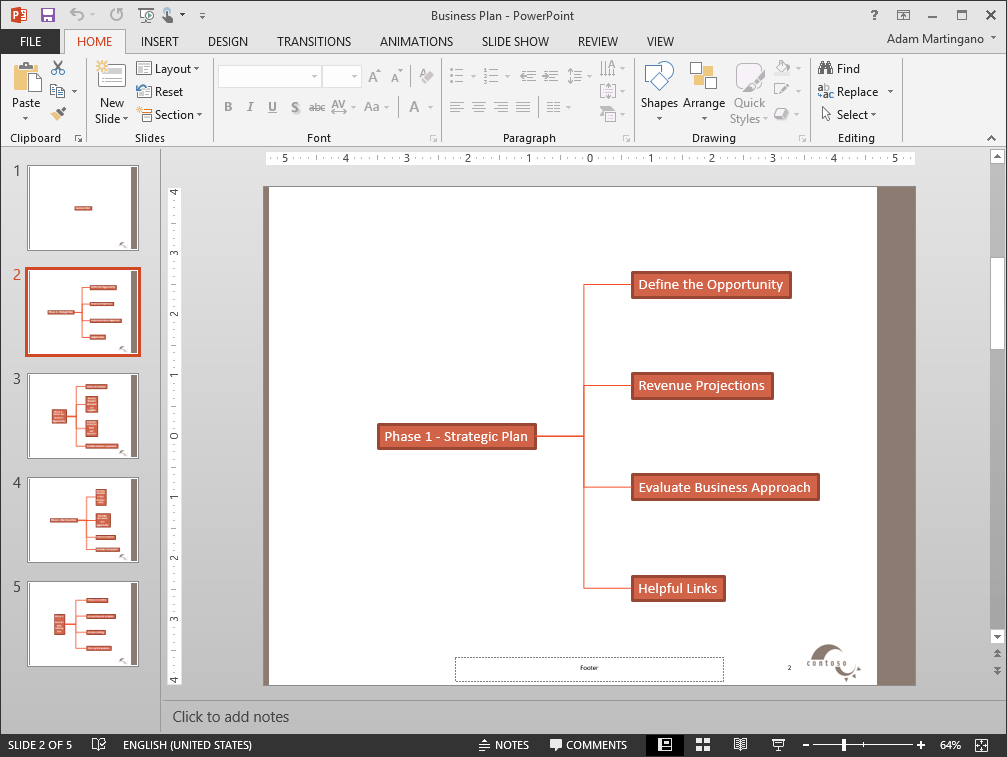 MindView 6's PowerPoint Export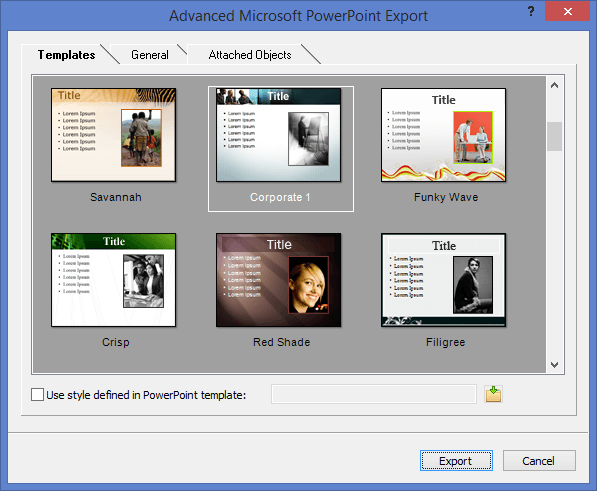 MindView 6's PowerPoint Export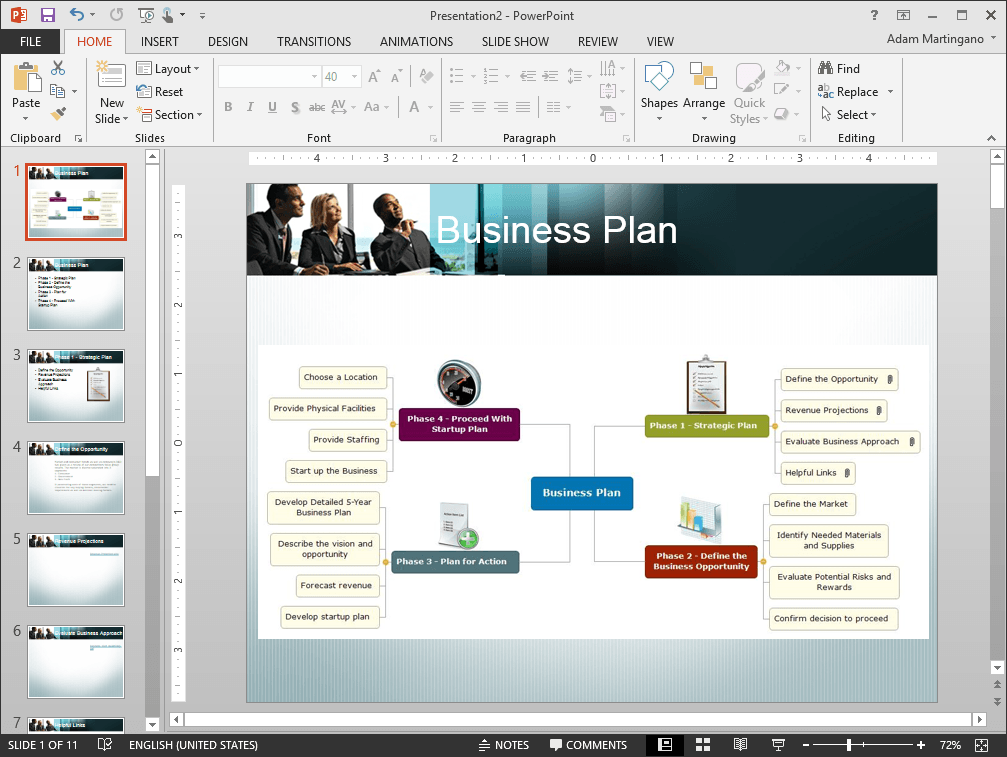 MindGenius 6's PowerPoint Export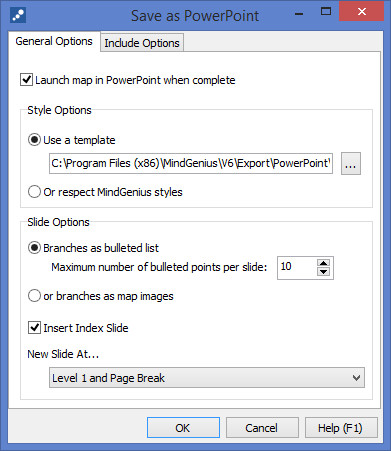 MindGenius 6's PowerPoint Export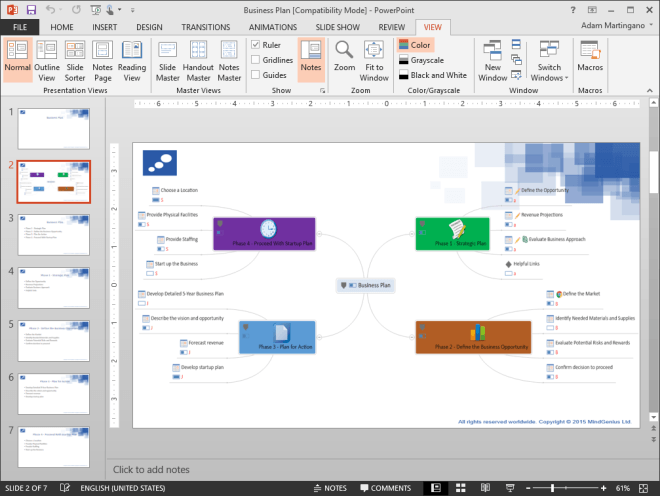 Once again, MindView proved to have the most polished integration when it came to both the export and import to PowerPoint.
---
MindView's export to Excel combined with the program's calculation module proved advantageous. Although MindGenius had a nice Excel export, the branch calculation feature of MindView is what made it the most impressive. MindManager includes a very comprehensive and powerful calculation module similar to MindView's with a few added bells and whistles that we really liked. Specifically, you could calculate values from any branch at any level, and create some automated calculations.
It was very tricky to figure out how to use these advanced features in MindManager, but once we got the hand of it, we were pleased. MindView's calculation module was a little more intuitive and functioned much like MS Excel. MindView has a unique feature called "Constants" which proved to make its calculation module more effective over the long term and more practical for most business cases.
MindManager offers the ability to capture an Excel range, but this proved to be the same as using the Microsoft Snipping tool and adding it as a branch picture.
The exports to Excel from MindView and MindGenius were very similar. MindManager offered a few different types of exports using the .CSV file format such as a Pivot table, however it was difficult to evaluate the different types of exports.
MindView also had a nice wizard and professional looking templates that could be carried over as well as the ability to select your desired information to transfer to Excel.
MindView 6's Excel Export Wizard Tab 1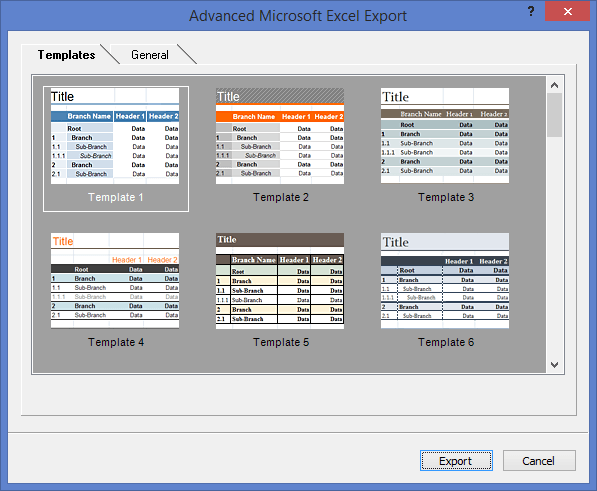 MindView 6's Excel Export Wizard Tab 2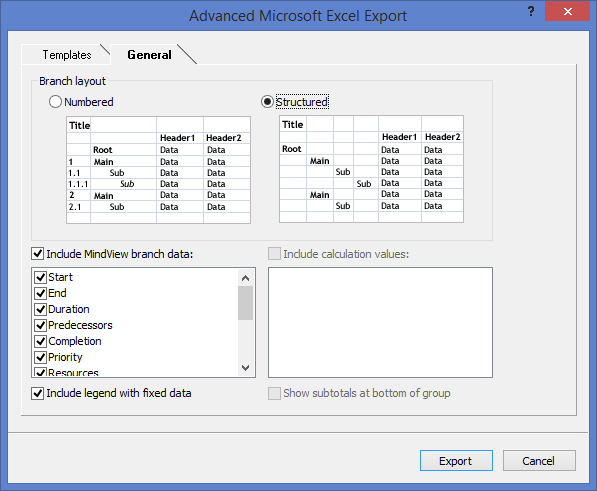 ---
The Outlook integration offered by MindManager allows users to show Tasks and Calendar appointments as branch data or as branches of the mind map. MindManager is also more integrated with SharePoint than the other 2, but that is outside the scope of this review. MindView provides Outlook integration that allows users to distribute tasks and synchronize completion levels via Outlook. MindGenius also allows for export and synchronization with Outlook with a little bit more functionality than MindView.
All in all, the 3 tools did fairly well when interfacing with MS Outlook, but all had a few quirks depending on the Outlook environment, so it was difficult to know if these were software quirks, or MS Outlook quirks.
Using Mind Mapping for Project Management
---
Mind mapping is often used by project managers for creating work breakdown structures and transferring such information to MS Project or to a built-in Gantt chart, which is one of the primary focuses of this mind mapping software review. All three applications, MindView, MindManager and MindGenius allow users to attach task information to the mind map branches and allocate resources respectively.
MindView 6 was designed to be a front end and back end tool for Microsoft Project which is why users will find more industry standard features such as Effort Driven Scheduling, Task Types, Individual Resource Calendars, Constraint Types, Critical Path and more, allowing for a more robust import / export integration with Microsoft Project. It is important that when a user imports an existing MS Project file, the data is accurate, and the above mentioned features provide a more accurate transfer of project data.
When transferring the information into the built-in Gantt chart, both MindGenius and MindView swap over to a full view of the Gantt chart. This is important for project managers that need to see a full overview of the project at hand. Although MindManager offers a split view that lets you work in the mind map and Gantt chart at the same time, it proved difficult to get a project overview.
The Gantt charts in MindView and MindGenius can be compared to a cut-down version of MS Project, offering the majority of most frequently used MS Project features. MindManager's Gantt chart lacks constraints and was not up to par with the other two reviewed mind mapping tools. In all 3 reviewed programs, there are limitations with these built-in Gantt charts when it comes to resource leveling and base lining, which is why the integration to MS Project is so beneficial. MindView offered promising alternatives by creating comprehensive Project Reports with various dashboards and allowing users to convert the Gantt chart to a project timeline as an alternative view of the project plan.
MindManager's Gantt View
MindView's Gantt View
The unique Timeline view in MindView 6 gives users the ability to present and communicate a project schedule using a simplified linear method, which is easily understood by any skill level. With the ability to display Branch task information across the timeline as well as the other views, teams are guaranteed a more visual understanding of the project details and requirements.
MindView's Timeline View
Mind Mapping for Enhanced Collaboration
---
It is now possible for teams to collaborate on mind maps online from different locations, for use in brainstorming meetings, project updates or even to share information with clients. Previously, this technique was only available through online mind mapping tools; however with the creation of online workspaces, this is now available through desktop mind mapping software.
Using MindJet Connect (MindManager for Web) and MindView's Shared Workspace, users can save a mind map online and work online or directly from their desktop application. Multi-user editing in real time is made possible through the online workspace. MindJet Connect and MindView Online offer cut-down versions of their desktop counterparts as online mind map applications which allow you to work on maps when you are away from your desk.
MindView's Shared Workspace offers task distribution to resources and back reporting without an email system needed. In order to safeguard areas that should not be changed, MindView allows users to lock branches from other users so they can't be edited. MindGenius does not offer a collaborative tool at this time.
---
The conclusion of this professional mind mapping review is that all three applications offer impressive mind mapping and project management features. MindView scored highest in this review due to its seamless MS Office integration and comprehensive views. We found that MindView was also very easy to use which allowed users to work faster and more efficiently. MindManager ranked 2nd, and does offer advanced features such as database connectivity and advanced SharePoint integration, however, these advanced features may not apply to the average user.
MindManager is sold as a suite including the Mac and PC desktop versions at $379, however the PC is version 16 and the Mac is version 10 so compatibility is an issue when transferring files between the platforms. MindGenius ranked the lowest among its competitors, but it is also the least expensive. MindGenius can be purchased for $235, whereas MindView 6 costs $379. Considering which product will offer the most value for the money, we feel that MindView is the best choice when it comes to mind mapping software.