Test professioneller Mind Mapping Software
Ziele dieses Mind Mapping-Tests
---
In diesem Test haben wir professionelle Desktopapplikationen verglichen, die durch MS Office Integration und Projektmanagement-Features besonders produktiv scheinen. Wir haben folgende Programme als besonders geeignet für den Test ausgewählt: Mindjet (vormals Mind Manager), MindView 5 Business sowie MindGenius Business 4; mancher Anwender wird allerdings auch iMindMap und MindMapper in Betracht ziehen. All diese Applikationen erleichtern das Erstellen von Mindmaps deutlich gegenüber dem Arbeiten mit Stift und Papier und erlauben insgesamt ein sehr einfaches Aufbauen von Mindmaps.
Professionelle Mind Mapping-Software wird oft für Projektmanagement und Wissensmanagement verwendet, für das effektivere Durchführen von Meetings sowie für verbesserte Team-Zusammenarbeit. Aus diesem Grund fokussiert dieser Test auf diese Bereiche. Sowohl Mindjet als auch MindView gibt es für den PC und als eingeschränkte Mac-Version. MindGenius gibt es nur als PC-Version. Mindjet enthält eine sehr kleine iPad-Version, während MindGenius und MindView auf dem iPad über die Integration von iThoughts funktionieren. Mindjet gibt es auch als Web-basierende Lösung, die allerdings gegenüber der Desktop-Applikation eingeschränkt ist.
---
Autor: Andrew Makar von TacticalProjectManagement.com
Bewertungen
| | | | | | |
| --- | --- | --- | --- | --- | --- |
| Nicht vorhanden: 0 | Testletzter: 1 | Unterdurchschnittlich: 2 | Durchschnittlich: 3 | Überdurchschnittlich: 4 | Testsieger: 5 |
Gesamt: 201
Gesamt: 162
Gesamt: 106
Plattform
PC
Ja
Ja
Ja
Mac
Ja
Ja
Nein
iPad
Nein
Ja
Ja
Web
Ja
Ja
Nein
Map Formate
Links/Rechts
4
4
3
Rechts/Links
4
3
3
Projektstrukturplan (PSP)
5
5
3
Organigramm
4
5
3
Gliederung
5
3
0
Gantt
5
3
4
Zeitleiste
5
0
0
Microsoft Integration
MS Word
Export
5
3
2
Import
4
4
1
MS PowerPoint
Export
4
2
3
Import
4
0
0
MS Excel
Export
5
3
4
Import
3
0
0
MS Outlook
Export
4
5
4
Import
4
4
2
MS Project
Export
5
2
3
Import
5
2
3
Weitere Exporte
PDF
3
5
3
HTML
5
1
4
Mind Map-Funktionen
Notizen anhängen
5
5
3
Anhänge/Hyperlinks
5
3
4
Visuelle Anpassung
4
5
3
Multi-Mapping
3
5
3
Beziehungslinien
4
4
4
Filter
5
5
4
Präsentationsmodus
3
4
2
Zweigansicht / Fokus auf Zweig
5
5
3
Legende
5
2
0
Projektmanagement-Funktionen
Aufgabeninformation in Map-Ansichten
4
5
4
Gantt Diagramm-Funktionalität
5
2
3
Arbeiten mit Ressourcen
4
3
4
Leistungsgesteuerte Aufgaben
4
3
0
Meilensteine setzen
5
5
5
Bedingungen setzen (div. Typen)
5
2
5
Abhänigkeiten setzen (div Typen)
5
4
5
Prioritätsgrade
4
3
4
Projektkalender
4
2
0
Projektberichte
4
0
0
Task Modes
4
2
0
Project Reports
5
3
0
Indikatoren
2
3
0
Zusammenarbeit
Online-Umgebung / Workspace
3
5
0
Online-Aufgabenmanagement
4
4
0
Kostenloser Viewer
1
5
2
SharePoint Integration
2
5
0
Multi User-Bearbeitung
4
4
0
Zweige sperren
3
0
0
Aufgaben verteilen
3
5
3
Andere Eigenschaften
Zweigkalkulation
4
5
0
Gesamt: 201
Gesamt: 162
Gesamt: 106
Mind Mapping ist eine nichtlineare Art des Brainstorming. Die getesteten Mind Mapping-Softwareprogramme erlauben sämtlich das Umschalten auf verschiedene Ansichten. Es ist oft hilfreich, die gesammelten Informationen auf verschiedene Weise darstellen zu können, abhängig von Zielpublikum und dem Zweck. Eine den getesteten Mind Mapping-Programmen gemeinsame Ansicht ist das Gantt Diagramm. MindView enthält 6 austauschbare Ansichten inklusive eines umfassenden Gantt Diagramms, einer Gliederung und einer Zeitleiste. Alle drei Mind Mapping-Tools erlauben die Ansicht der Ideen in verschiedenen Richtungen, also Links-Rechts und als Organigramm.
MindView 6 Views
MindGenius 6 Views
Building and Formatting the Mind Map
---
There is no doubt that the most important feature in a mind mapping software tool is that it must be intuitive and easy to build a mind map. In mind mapping, most programs are a Coke vs. Pepsi type scenario, however when it comes to productivity, there are a few things to point out in each program.
MindManager 16 has the most flexible branch positioning when building the mind map. This allows users to act with more creative freedom, and drag/place main branches where they desire. There are also small + signs on the 4 main areas of the branch that allow for quick branch creation. After a few tries, this became very intuitive.
MindManager 16's Insert Branch Mode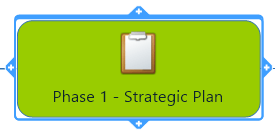 One of our main complaints with the flexibility of branch placement is that the map can become "unbalanced" or heavy to one side making it difficult to follow the branch hierarchy. MindManager 16 has a feature called "Balance Map" but once you hit this, all of your custom placement is lost.
MindManager 16's Unbalanced Mind Map View
Unfortunately when it came to adding colors and images to the map, MindManager 16 was not at the level of MindView 6. Small things like placing the branch image outside of the branch are not supported, and intelligent features like the font automatically changing color if the branch fill color that was applied is darker than the text, were not supported. This caused extra work to change the color of branches.
MindManager 16's Branch Text Color Mind Map View

MindGenius 6 was a little tricky to get started, because we could not locate the branch and sub branch icons in the ribbon. The keyboard shortcuts were similar in all 3 programs, and the right-click menu displayed the options to add branches, but why not in the ribbon? We found the multi-media catalog a bit awkward to navigate, there was only a small amount of space and we had to keep resetting the catalog to get back to the main folder level. Lastly, just like in MindManager, when you change the branch color to a dark color, the font was difficult to read, and you had to manually change the font color.
MindGenius 6's Branch Text Color Mind Map View

Out of the 3 mind mapping software programs reviewed, MindView 6 was the fastest and most intuitive. With rapid fire brainstorming, MindView 6 continued to place branches in specific designated locations, and balanced the map throughout our brainstorming session. This made the process of creating the frame of the mind map fast, easy and enjoyable.
When formatting things like branch colors, we were pleased to see that MindView 6 was intelligent in that it automatically updated the font color if the branch fill color was darker than the text. In our opinion, it is the little things that make all the difference. There were also a few different options for branch picture placement which made the map easier to follow so that the branch picture is an attention grabber but does not clutter the review of the branch names.
MindView 6's Mind Map View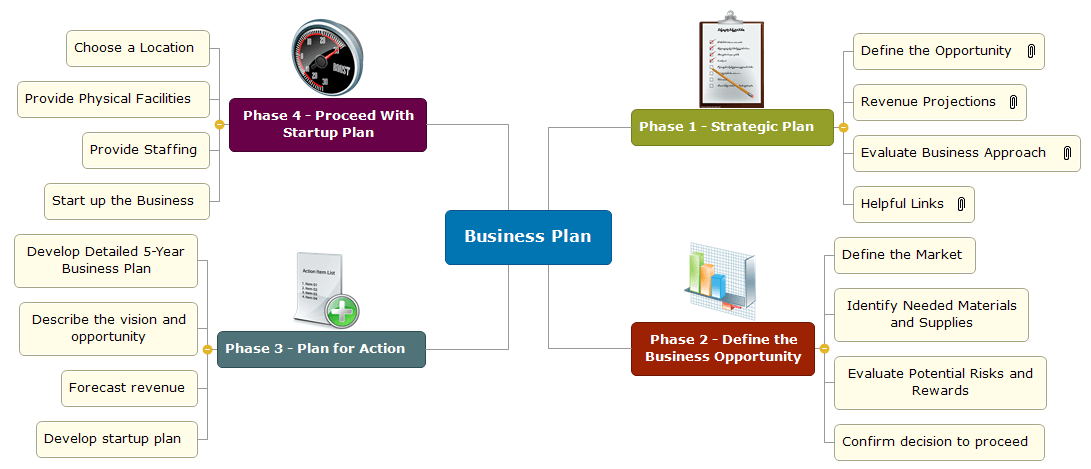 Adding Branch Attachments
---
All 3 mind mapping software programs we reviewed allowed you to add branch details via a Text Note, File Attachment, Hyperlink, etc.
Adding Text Notes
MindManager 16, MindView 6 and MindGenius 6 all contained text editors used for adding branch descriptions to be accessed at a later time from the branch. MindView and MindManager had more options, whereas MindGenius used plain text and a very small workspace for entering it. You could format the text in MindGenius 6, but you had to know to go to the Format Ribbon, select the text in the Text Editor and apply the changes. We found that to be a little cumbersome to work with.
Attaching Files
When it came to attaching files, it was not the feature itself that we found interesting, as that was standard in all 3 programs. It was the ease in which the attachments were made that we focused on.
MindManager 16 had a confusing dialogue that took a few tries to figure out, whereas MindView 6 and MindGenius 6 had a simple browse dialogue that popped up your file browser and you picked your file. In this example, we attached an Excel file.
MindManager 16's Attachment Dialogue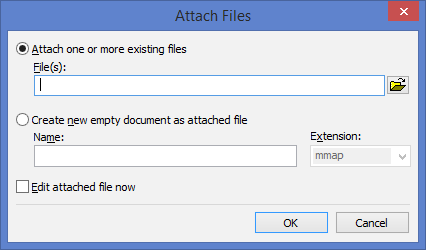 MindView 6's Attachment Dialogue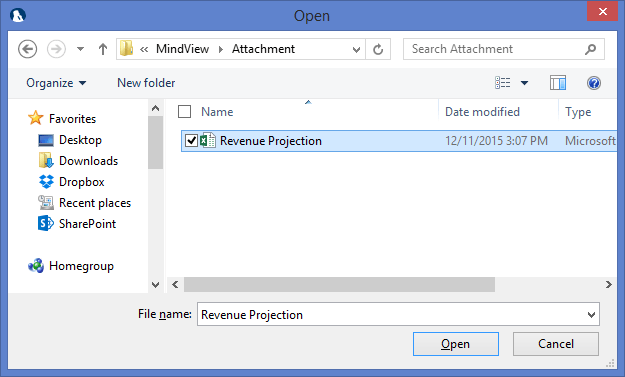 MindGenius 6's Attachment Dialogue

In MindManager, we also found it difficult to overview the file attachment once it was launched. MindManager opens the file attachment in the Browser panel, which is limited in size so you have to scroll to review the document. It is also read only. If changes are made to the external file, you need to hit Refresh to get this read only version updated, however this did not work for us. We had to remove and re-attach the updated Excel file for it to preview the new info. You can launch it to open outside of MindManager but that is just 1 extra step to get to where you need to be.
MindView 6 and MindGenius 6 both launched the file attachment in its native program where we could review and use all of the relevant features of that program.
MindManager 16's File Attachment Browser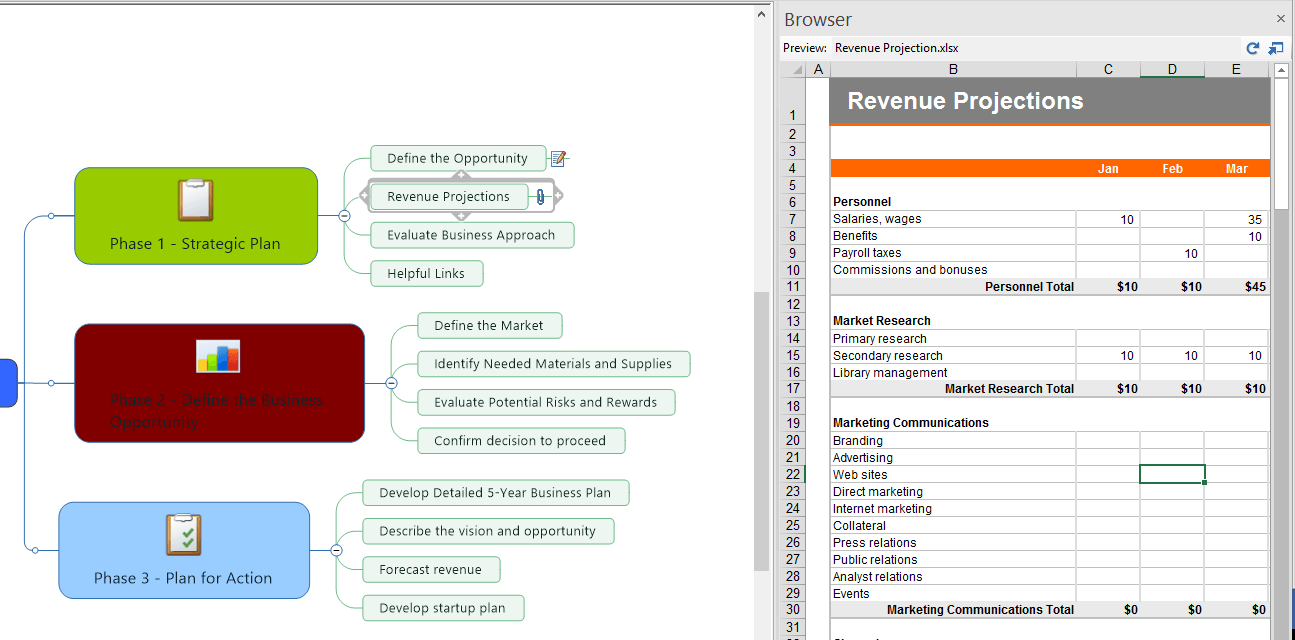 MindView 6's File Attachment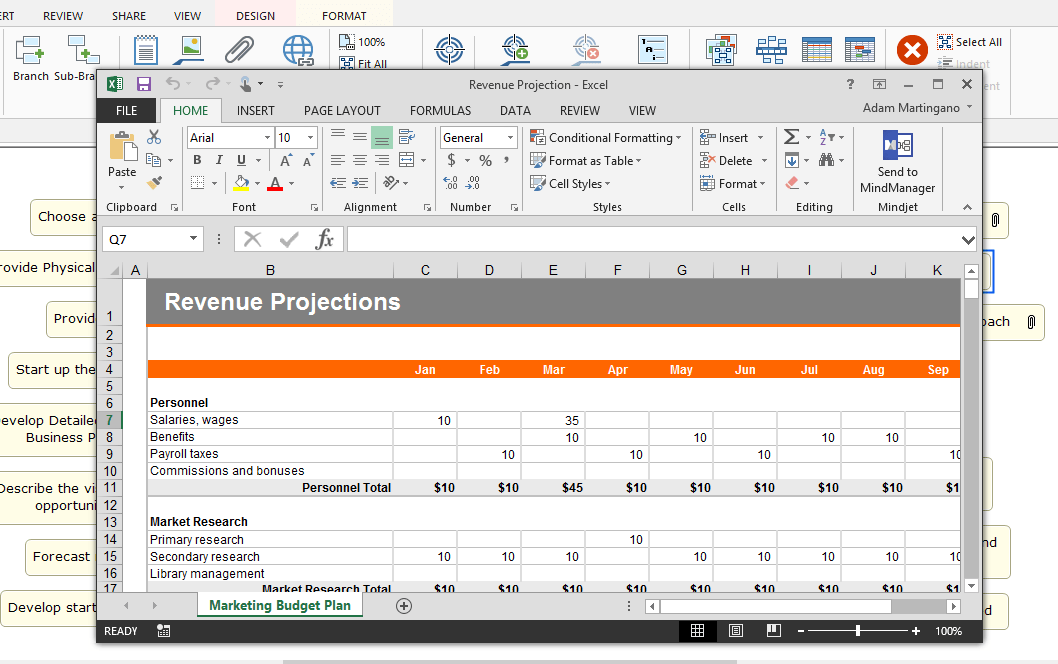 MindGenius 6's File Attachment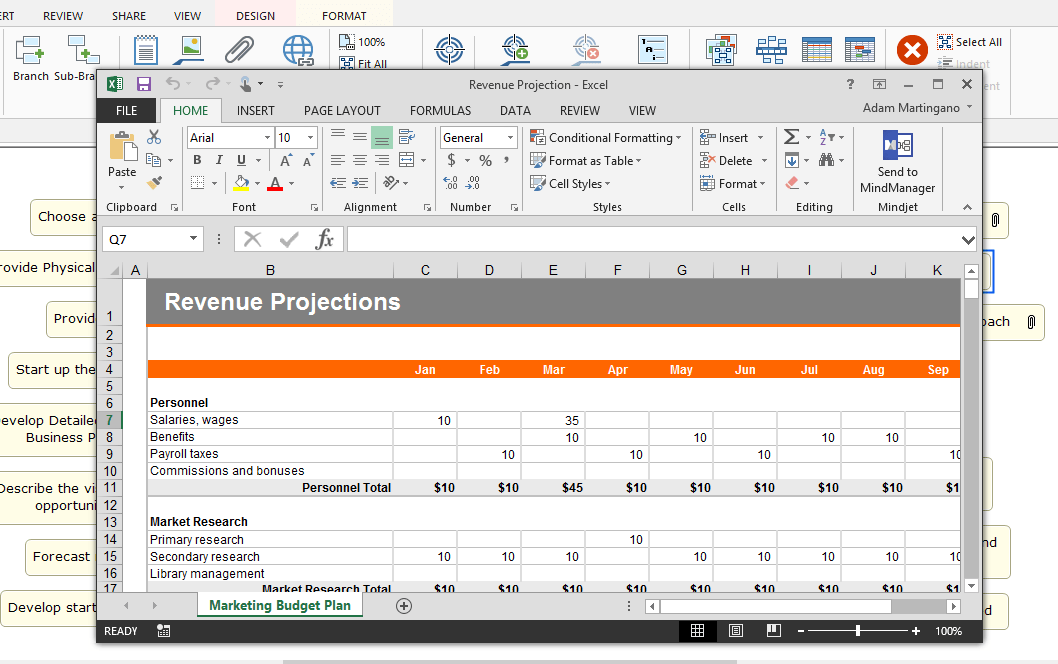 The issue that we had with MindGenius, is that the more attachments and branch information you had, the more cluttered the branch became. Here is a screenshot of a branch with multiple attachments, task info and a text note.
MindGenius 6's Multiple File Attachments, Text Note and Task info

Here is a similar branch in MindView, which is displayed in a cleaner manner.
MindView 6's Multiple File Attachments, Text Note and Task info

Adding Hyperlinks
Hyperlinks are a very valuable addition to your mind map. For those that are using Mind Mapping Software for research, it is an essential feature.
MindView 6 and MindGenius 6 had a standard dialogue for adding a hyperlink, however we were once again faced with a confusing dialogue from MindManager 16.
MindManager 16's Hyperlink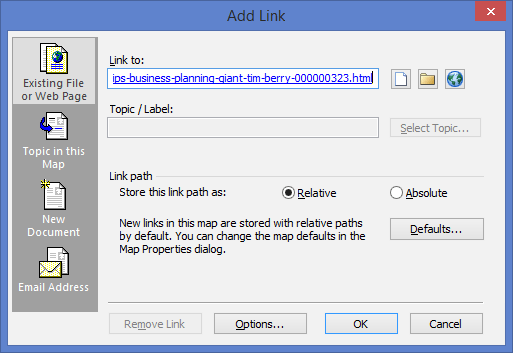 MindView 6's Hyperlink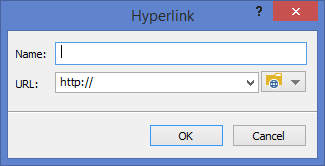 MindGenius 6's Hyperlink
With MindManager, we had the same concerns with the web page opening in the Browser panel. There is only so much space on a computer monitor, and valuable real-estate is being utilized for a small window to review a lot of content.
MindManager 16's Hyperlink Browser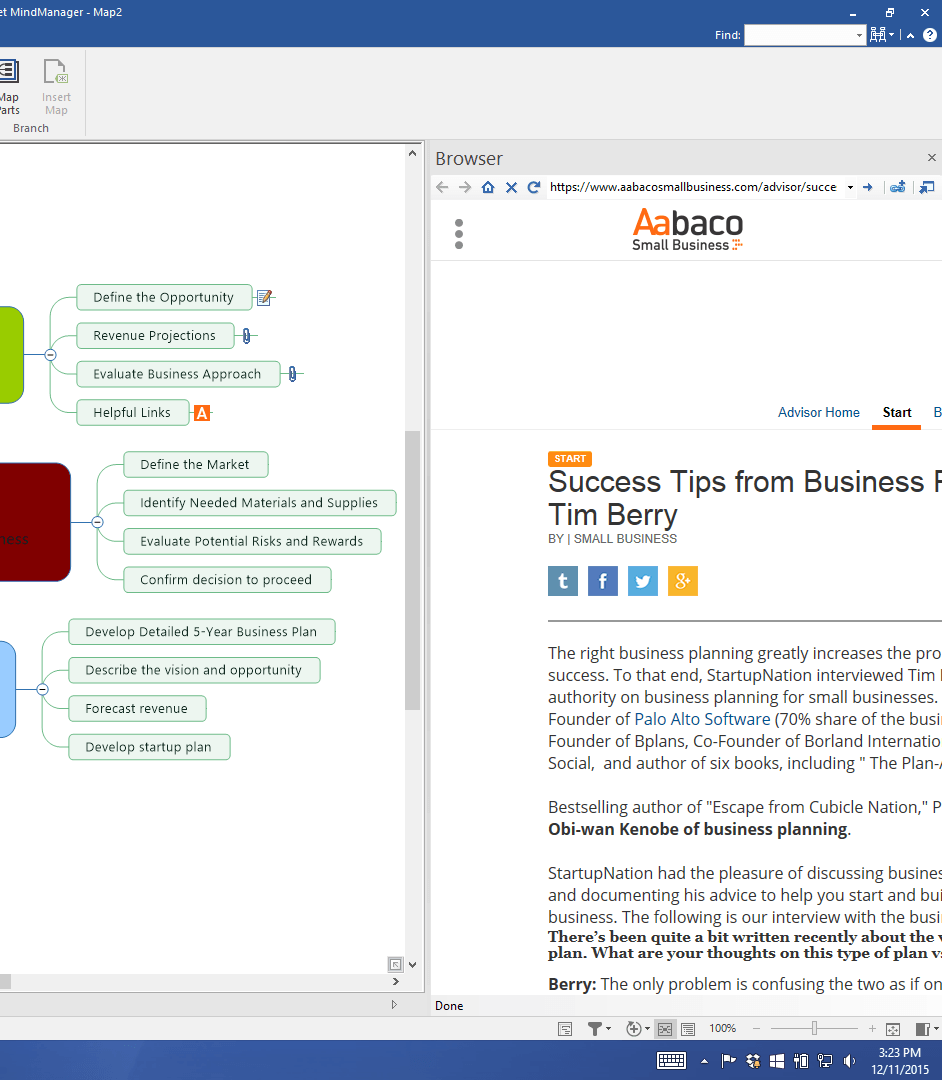 MindView 6's Hyperlink Browser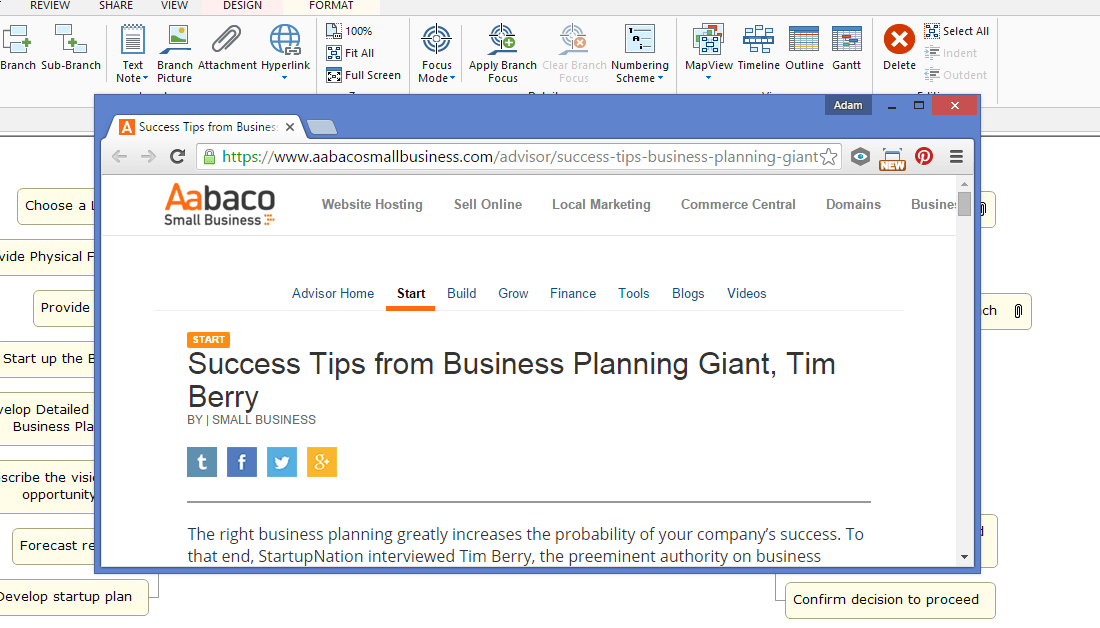 MindGenius 6's Hyperlink Browser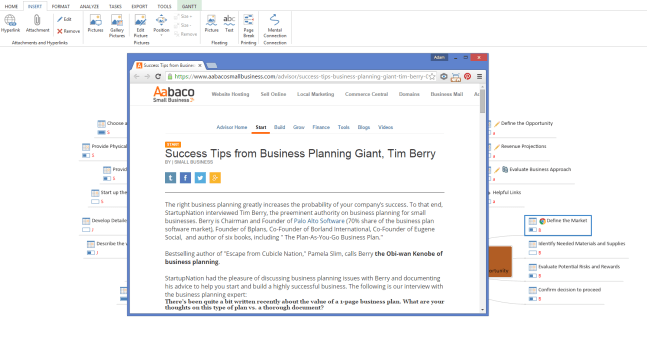 Mind Mapping und MS Office
---
Ein wichtiger Punkt bei Mind Mapping-Software ist, was mit der fertiggestellten Mindmap weiter passieren kann. Zum Beispiel stellt die Möglichkeit, aus der Mindmap den Entwurf einer Word-Datei werden zu lassen oder sie in PowerPoint zu exportieren, einen enormen Vorzug dar. Damit sparen Sie Zeit, steigern die Produktivität und sorgen für schnellen ROI der Mind Mapping-Software.
Export zu Microsoft Word aus MindView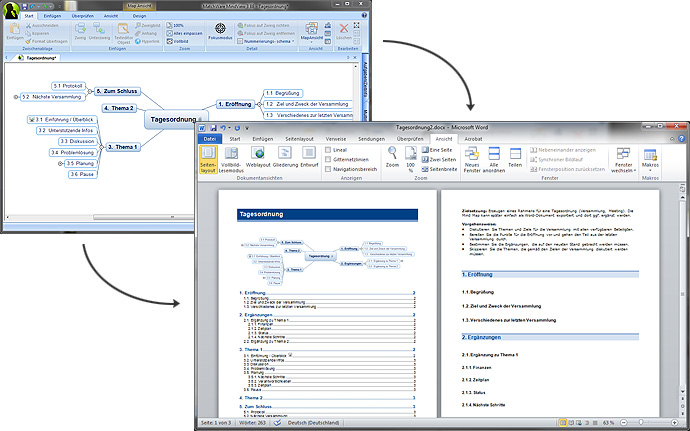 ---
Verglichen mit den anderen Programmen bietet MindView einen professionelleren Export als Word-Dokument, indem u.a. professionelle Vorlagen verwendet werden. Beim Import aus Word funktionierten MindView und Mindjet beim Erzeugen der Mindmaps einwandfrei. Beim Verwenden von MindGenius ergab sich beim Umsetzen als Word-Dokument kein klarer Stil wie bei den beiden anderen Programmen.
MindManager 16's Word Export Tab 1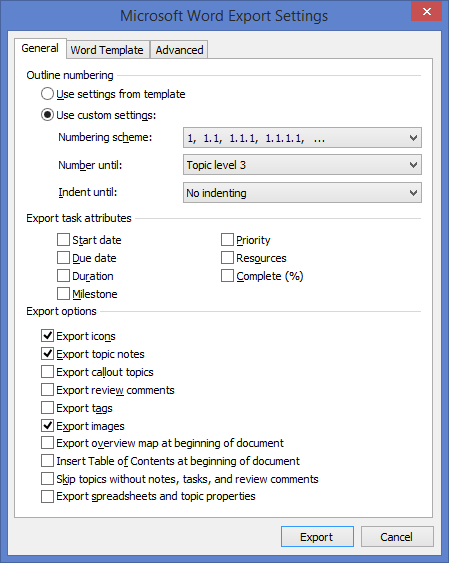 MindManager 16's Word Export Tab 2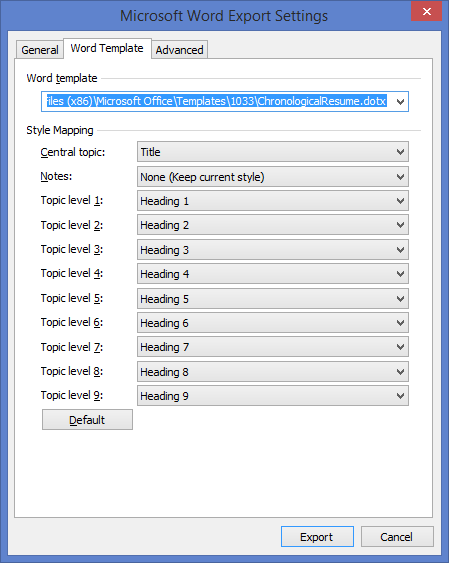 MindManager 16's Word Export Tab 3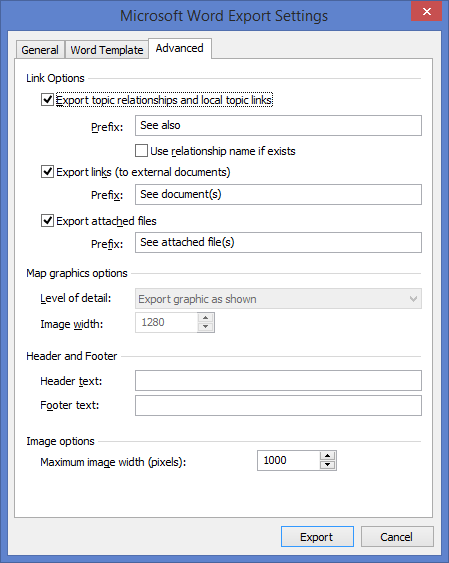 MindView 6's Word Export Tab 1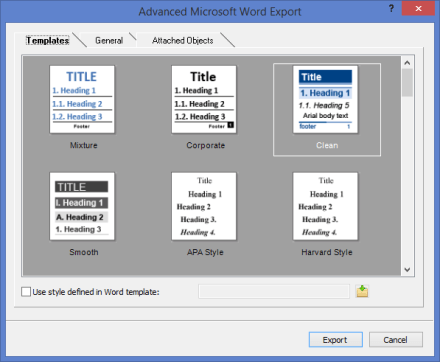 MindView 6's Word Export Tab 2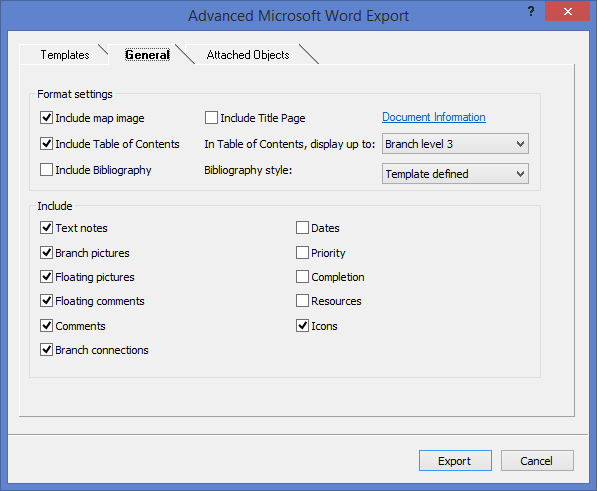 MindView 6's Word Export Tab 3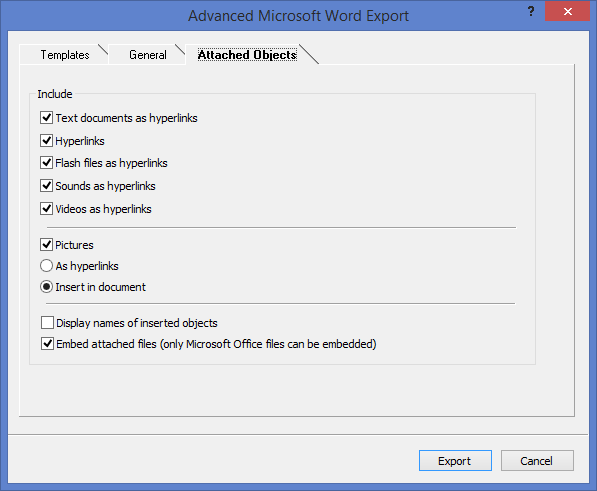 MindGenius 6's Word Export Tab 1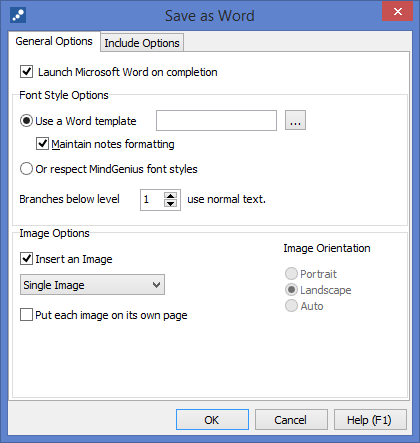 MindGenius 6's Word Export Tab 2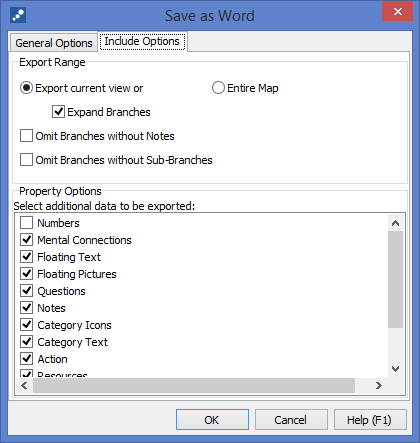 Here are a few screen shots on the final product when exporting to Microsoft Word.
MindManager 16's Word Export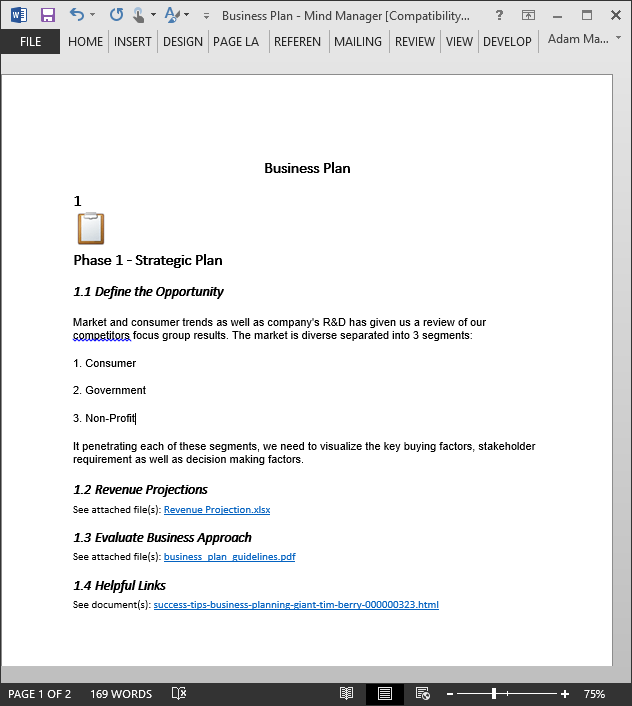 MindView 6's Word Export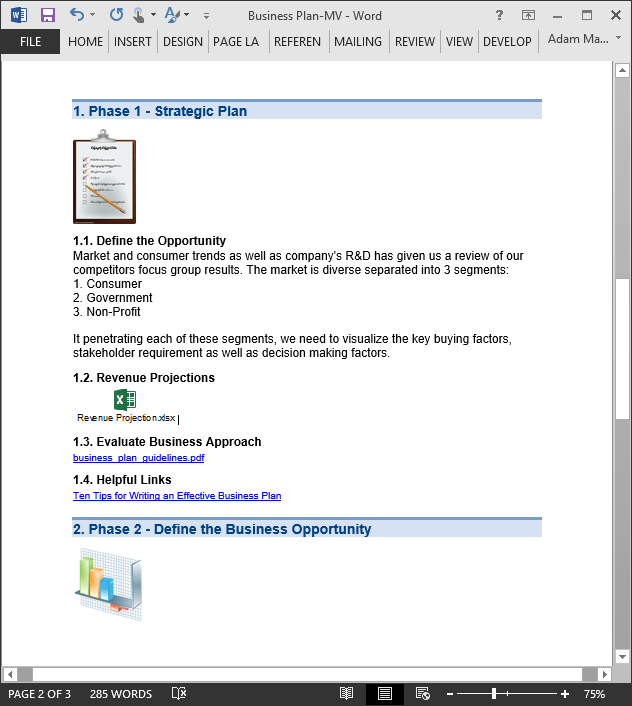 MindGenius 6's Word Export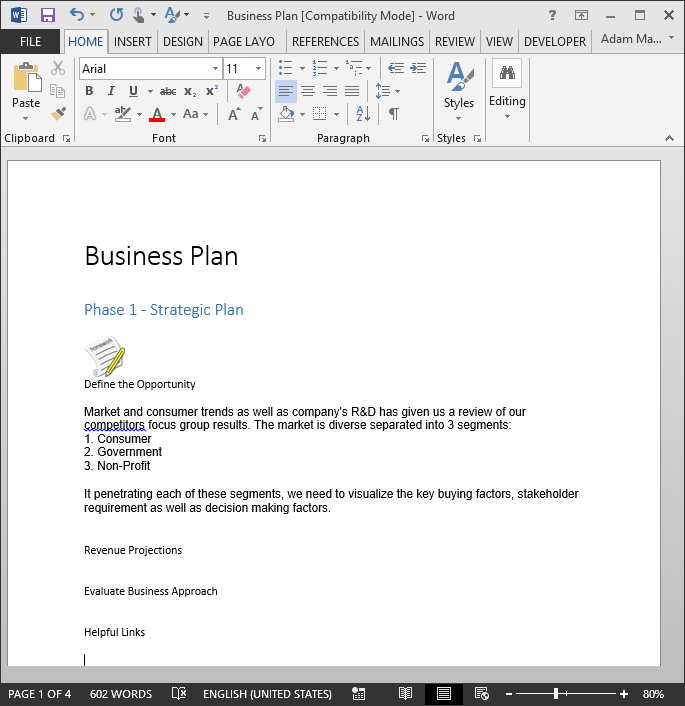 When importing from Word, both MindView and MindManager did well when importing Word documents as mind maps. As for MindGenius, the import into Word did not retain a clean style like the other 2 programs.
---
Beim Export einer Mindmap zu PowerPoint wird bei MindView und MindGenius die Zweigstruktur automatisch umgesetzt, während bei Mindjet nachgefragt wird, welche Zweige als Folien exportiert werden sollen. Erneut ergab sich bei MindView die professionellste Integration – sowohl bei Ex- als auch beim Import bzgl. PowerPoint.
MindView specifically had a very intuitive export wizard, much like their Word export which allows you to choose between several professional PowerPoint templates that you can't find in any other program, or use a custom template of your choice.
MindManager 16's PowerPoint Export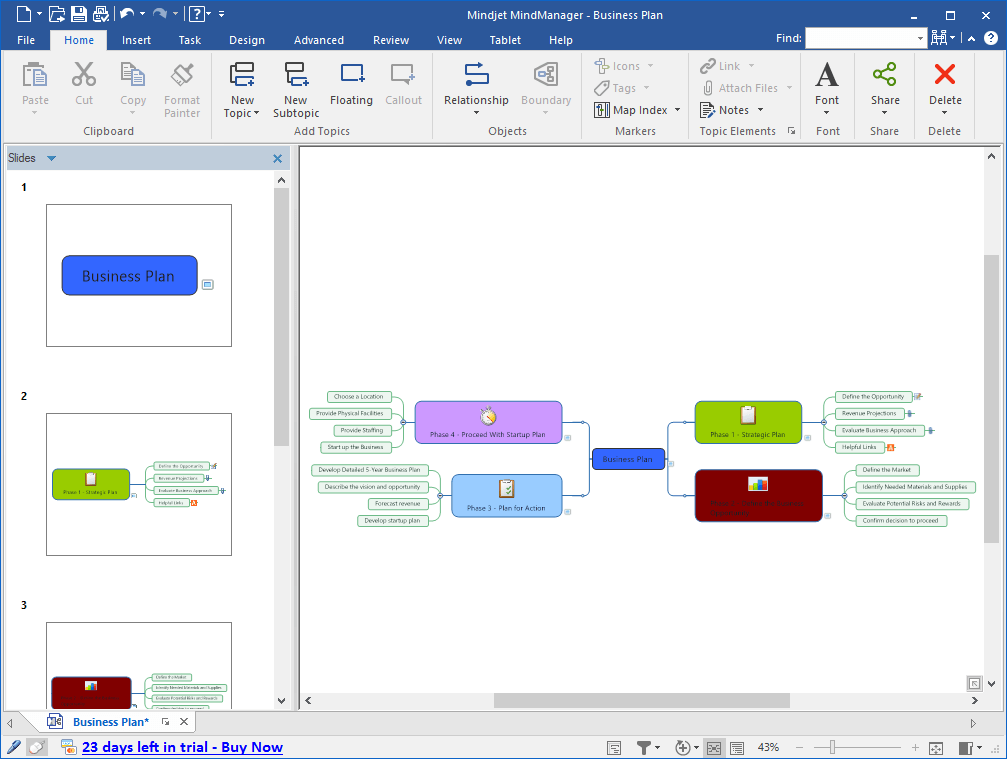 MindManager 16's PowerPoint Export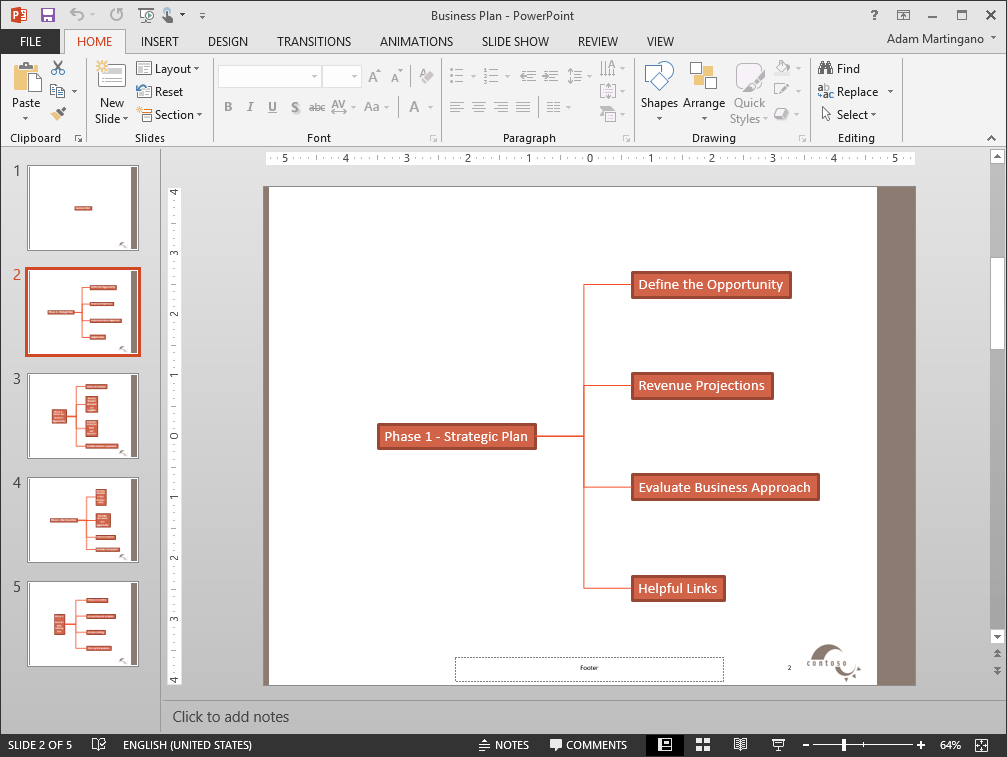 MindView 6's PowerPoint Export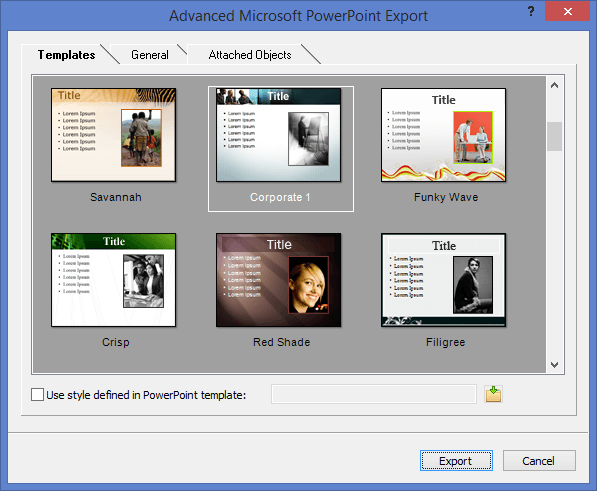 MindView 6's PowerPoint Export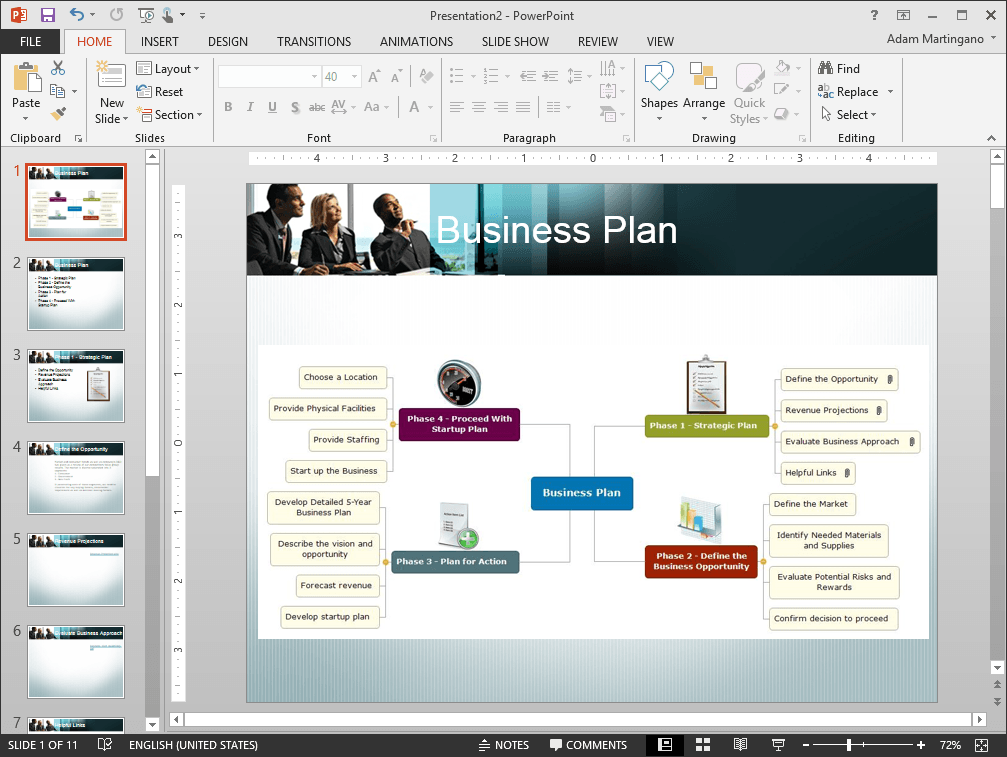 MindGenius 6's PowerPoint Export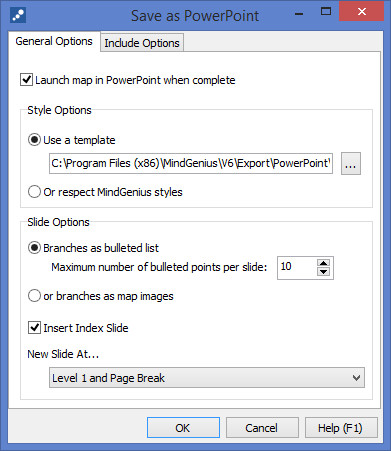 MindGenius 6's PowerPoint Export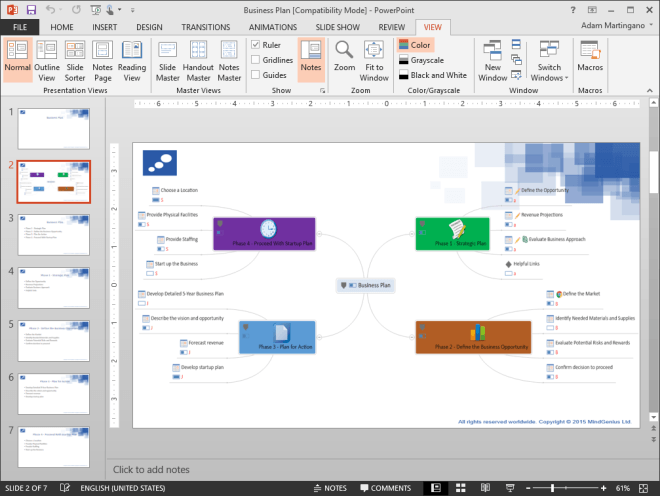 Once again, MindView proved to have the most polished integration when it came to both the export and import to PowerPoint.
---
MindViews Export zu Excel bietet – kombiniert mit dem eingebauten Kalkulationsmodul – viele Vorteile. Obwohl auch MindGenius einen korrekten Excel-Export bietet, machte die Funktion in MindView, auf und mit Zweigen kalkulieren zu können, den besten Eindruck. Mindjet besitzt nun ebenfalls ein Kalkulationsmodul, das ähnlich dem in MindView funktioniert; allerdings besitzt nur MindView das Feature "Konstanten", wodurch das Kalkulationsmodul und der Excel-Export effektiver werden.
It was very tricky to figure out how to use these advanced features in MindManager, but once we got the hand of it, we were pleased. MindView's calculation module was a little more intuitive and functioned much like MS Excel. MindView has a unique feature called "Constants" which proved to make its calculation module more effective over the long term and more practical for most business cases.
MindManager offers the ability to capture an Excel range, but this proved to be the same as using the Microsoft Snipping tool and adding it as a branch picture.
The exports to Excel from MindView and MindGenius were very similar. MindManager offered a few different types of exports using the .CSV file format such as a Pivot table, however it was difficult to evaluate the different types of exports.
MindView also had a nice wizard and professional looking templates that could be carried over as well as the ability to select your desired information to transfer to Excel.
MindView 6's Excel Export Wizard Tab 1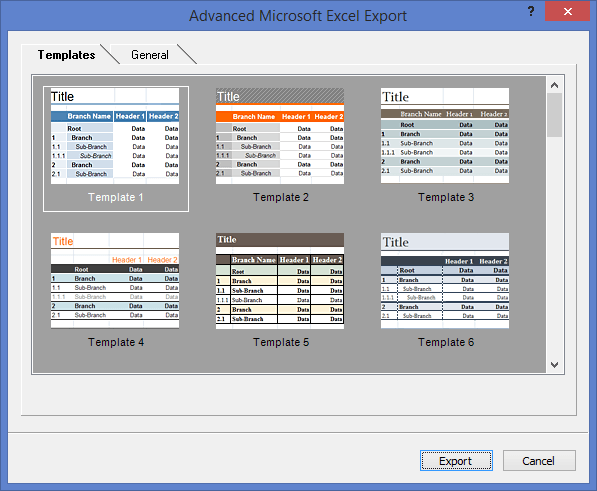 MindView 6's Excel Export Wizard Tab 2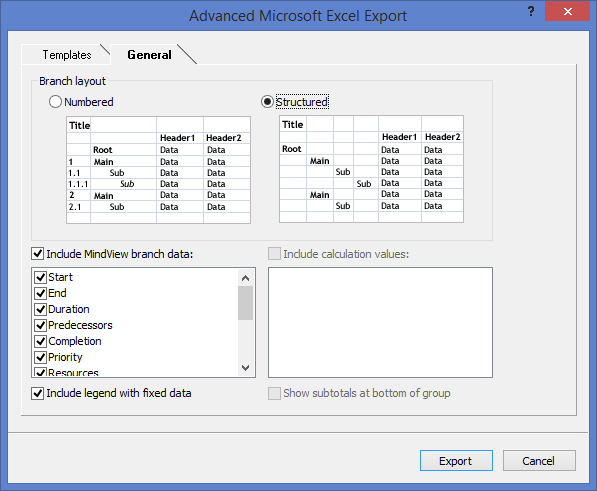 ---
Die Outlook-Integration in Mindjet erlaubt dem Anwender, Aufgaben und Kalender-Meetings aus Zweigdaten bzw. Zweigen der Mindmap zu generieren. Mindjet ist außerdem besser in SharePoint integriert als die anderen beiden, aber das fällt nicht in den Bereich dieses Tests. MindView bietet eine Outlook-Integration, die es dem Anwender erlaubt, Aufgaben per Outlook zu verteilen und u.a. den Grad der Fertigstellung zu synchronisieren.
All in all, the 3 tools did fairly well when interfacing with MS Outlook, but all had a few quirks depending on the Outlook environment, so it was difficult to know if these were software quirks, or MS Outlook quirks.
Mind Mapping fürs Projektmanagement
---
Mind Mapping wird vom Projektmanager häufig für das Erstellen von Projektstrukturplänen verwendet, wobei diese danach an MS Project oder an ein eigebautes Gantt Diagramm übergeben werden. Dies ist auch einer der Schwerpunkte dieses Softwaretests. Alle drei Programme, MindView, Mindjet und Mind Genius erlauben dem Anwender das Hinzufügen von Aufgabeninformationen bzw. das Zuweisen von Ressourcen zu Zweigen der Mindmap.
MindView unterstützt jetzt individuelle Ressourcenkalender und Projektkalender, wodurch die Planung wesentlich genauer wird. Beim Darstellen der Information ins eingebaute Gantt Diagramm wechseln sowohl MindGenius als auch MindView in eine Vollansicht des Gantt Diagramms. Dies ist für den Projektmanager deshalb wichtig, weil er nur so einen Überblick über das Gesamtprojekt bekommt. Obwohl Mindjet eine geteilte Ansicht bietet und damit Mindmap und Gantt Diagramm gleichzeitig anzeigen kann, ist es damit schwierig, einen kompletten Projektüberblick zu bekommen. Die Gantt Diagramme in MindView und MindGenius kann man als einfachere Versionen von MS Project bezeichnen, die alle oft benötigten Funktionen von MS Project besitzen.
In Mindjets Gantt Diagramm fehlt das Feature "Bedingungen"; es konnte insofern nicht mit den anderen beiden konkurrieren. Alle 3 getesteten Programme zeigen Grenzen bzgl. der eingebauten Gantt Diagrammen, z.B. beim Vergleich von Ressourcen und von Vergleichslinien insgesamt geht.
Das macht die Integration von MS Project so hilfreich. MindView bietet vielversprechende Alternativen, indem es einen umfassenden Projektbericht inkl. verschiedener Dashboards bietet und das Konvertieren des Gantt Diagramms zu einer Zeitleiste als alternativer Anzeige des Projektplans ermöglicht.
MindManager's Gantt View
MindView's Gantt View
The unique Timeline view in MindView 6 gives users the ability to present and communicate a project schedule using a simplified linear method, which is easily understood by any skill level. With the ability to display Branch task information across the timeline as well as the other views, teams are guaranteed a more visual understanding of the project details and requirements.
MindView's Timeline View
Mind Mapping für erweiterte Zusammenarbeit
---
Es ist möglich, als Team an Mindmaps zusammen zu arbeiten – selbst von verschiedenen Orten aus. So können Brainstorming Meetings und Projektupdates realisiert und sogar Informationen mit Kunden geteilt werden. Früher war dies nur mithilfe von Mind Mapping Onlinetools möglich; jetzt funktioniert das dank Online Workspaces auch von lokalen Desktopprogrammen aus.
Mit Mindjet Web und MindViews Shared Workspace können Anwender Mindmaps online speichern und daran online oder direkt von der Desktopanwendung aus arbeiten. Multi User-Bearbeitung in Echtzeit wird durch den Online Workspace möglich.
Mindjet Web bietet eine kleinere Online Mindmap-Anwendung, die ein Arbeiten von überall aus erlaubt. MindViews Shared Workspace bietet Aufgabenverteilung an Ressourcen und entsprechende Rückmeldung ohne E-Mail-System. Um Bereiche zu schützen, die nicht verändert werden sollten, ermöglicht MindView dem Anwender, zeige zu sperren, sodass sie nicht bearbeitet werden können. MindGenius bietet zum jetzigen Zeitpunkt kein spezielles Werkzeug zur Zusammenarbeit.
---
The conclusion of this professional mind mapping review is that all three applications offer impressive mind mapping and project management features. MindView scored highest in this review due to its seamless MS Office integration and comprehensive views. We found that MindView was also very easy to use which allowed users to work faster and more efficiently. MindManager ranked 2nd, and does offer advanced features such as database connectivity and advanced SharePoint integration, however, these advanced features may not apply to the average user.
MindManager is sold as a suite including the Mac and PC desktop versions at $379, however the PC is version 16 and the Mac is version 10 so compatibility is an issue when transferring files between the platforms. MindGenius ranked the lowest among its competitors, but it is also the least expensive. MindGenius can be purchased for $235, whereas MindView 6 costs $379. Considering which product will offer the most value for the money, we feel that MindView is the best choice when it comes to mind mapping software.